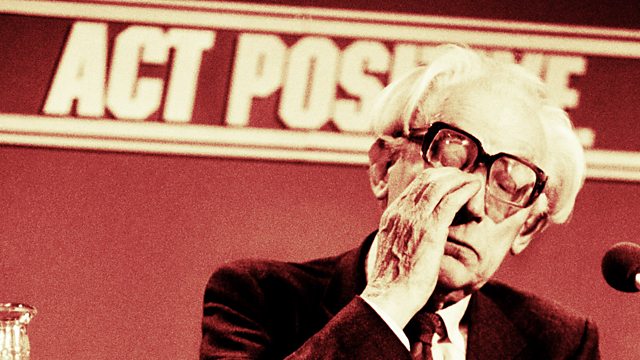 The Longest Suicide Note in History
Denys Blakeway tells the story of Labour's botched campaign in the 1983 general election with the help of the vivid archive from the time and interviews with participants from all sides.
In 1983, the Labour Party - in the midst of a bitter battle for the soul of the party and led by the unlikely figure of Michael Foot - produced a manifesto that was regarded as so extreme that it was dubbed by a leading party member as 'the longest suicide note in history'.
In this Archive on 4, Denys Blakeway looks at the genesis of this document which called for nuclear disarmament, withdrawal from Europe and a return to nationalisation- and which, it is alleged, only narrowly avoided a clause on the need to ban puppy farms.
Denys explores how Labour's election campaign disintegrated under the leadership of Michael Foot, a firebrand leftist orator and romantic intellectual, who rejected polling and sound-bites as no more than the slick ephemera of marketing men. Foot used all his oratory to persuade a sceptical public to embrace his vision, and led the party to a crashing defeat.
But it was not only his leadership and a radical manifesto put off the electorate. Labour's bitter civil war caused the party to split and resulted in the formation of the Social Democratic Party. Although many are critical of Michael Foot, he staved off melt-down. The Labour Party survived - just - to fight another day and, ironically enough, some of the manifesto policies regarded as so extreme in 1983 have now been adopted by the mainstream.
With Neil Kinnock, Roy Hattersley, Denis Healey, Shirley Williams, Cecil Parkinson, Tony Benn and John Sergeant.
Produced by Melissa FitzGerald
A Blakeway production for BBC Radio 4.
Last on