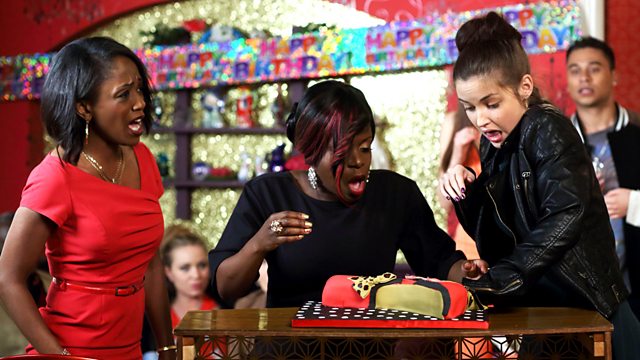 28/05/2013
Denise's dubious about Kim's imminent move to Essex with Ray. Ray gives Kim a black dress to wear at her birthday party. Kim's delighted with the birthday cocktail Fatboy buys her but Ray dismisses cocktails as tacky. Kim and Ray say goodbye to Morgan; Kim's hurt when she realises Ray doesn't think of her as family. Denise apologises to Kim for being unsupportive. At Kim's party, everyone teases her about Ray's planned suburban life. Ray makes cocktails but using a spirit Kim hates. Lauren wrecks Kim's birthday cake. Kim's thrilled with the 'his and hers' onesies Fatboy and Poppy give her. Kim tearfully says her goodbyes but then sees Ray's discarded onesie, confirming he doesn't 'get her'. Kim tells Ray she's not leaving with him and watches his taxi drive away, tears in her eyes.
Tanya attempts to keep Lauren away from alcohol. Max rejects Tanya's calls. Kirsty's annoyed when Max tells Dot about their upcoming scan. Tanya asks Denise and Kirsty not to serve Lauren alcohol at the Minute Mart or Vic. Lauren complains to Dot she has no money, Dot gives her £10. Attempting to buy booze at the Minute Mart, Lauren discovers what Tanya's done. Tanya's pleased to find Lauren seemingly working on her laptop. Lauren sneaks out to Kim's party. Max takes a miserable Kirsty home from the party early. Alerted by Denise, Tanya retrieves a drunk Lauren. Max phones Tanya but, realising he's worried about Kirsty, Tanya claims everything's fine.
Bolstered by Poppy, Alice tells Janine she can't work late and Michael that she can't meet him. Janine's surprisingly nice but Michael's disparaging. At Kim's party, Janine dumps Scarlett on Alice. Alice leaves, upset, then steals gravy granules from the Minute Mart.
Sharon gets nowhere with Phil but is hopeful when Phil tells Dennis he can visit.
Last on
Credits
| Role | Contributor |
| --- | --- |
| Kim Fox | Tameka Empson |
| Ray Dixon | Chucky Venn |
| Denise Fox | Diane Parish |
| Patrick Trueman | Rudolph Walker |
| Tanya Cross | Jo Joyner |
| Lauren Branning | Jacqueline Jossa |
| Max Branning | Jake Wood |
| Kirsty Branning | Kierston Wareing |
| Dot Branning | June Brown |
| Alice Branning | Jasmyn Banks |
| Janine Butcher | Charlie Brooks |
| Michael Moon | Steve John Shepherd |
| Poppy Meadows | Rachel Bright |
| Arthur 'Fatboy' Chubb | Ricky Norwood |
| Lucy Beale | Hetti Bywater |
| Shirley Carter | Linda Henry |
| Sharon Rickman | Letitia Dean |
| Phil Mitchell | Steve McFadden |
| Billy Mitchell | Perry Fenwick |
| Roxy Mitchell | Rita Simons |
| Dennis Rickman | Harry Hickles |
| Morgan Butcher | Devon Higgs |
| Executive Producer | Lorraine Newman |
| Director | John Greening |
| Writer | Wendy Granditer |
Lee's Story: Working with Samaritans
Live Chat with Jo Joyner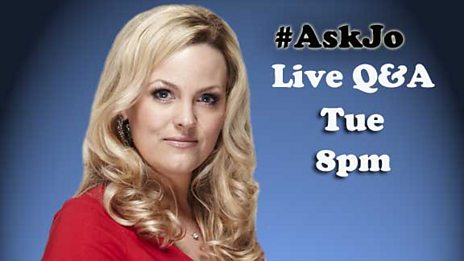 Jo Joyner (aka Tanya Branning, the long-suffering but gorgeously glamorous wife of Max) answered YOUR questions on Tuesday 28th May. Take a look at the conversation below:
If you weren't an actress...

Costume...

Watch our on set interview with Jo Joyner:

Favourite character...
Take part on Tue 28th May from 8pm