Chagall Reviewed, The End of Affluence, Cornelia Parker, Eleanor Rosamund Barraclough
With Anne McElvoy.
Marc Chagall's early career is the subject of a new exhibition at the Tate Liverpool. Focusing on the period between 1911 and 1922, the exhibition reveals his early experimentation with cubism while studying in Paris and how his Hasidic Jewish heritage informed his aesthetic. Alex Harris reviews the exhibition.
What if the West's glory days are over and the current period of sluggish growth is not a blip but a long term reality? That's the question posed by Stephen King, chief economist for HSBC, in his book When the Money Runs Out - The End of Western Affluence. He joins Anne along with Andrew Simms, author of Cancel the Apocalypse, to discuss what lessons we can learn from history and what kind of society we want to build for the next generation.
New Generation thinker Eleanor Rosamund Barraclough is a specialist in Old Norse Literature at Oxford University. She's just returned from Denmark where she has been studying original manuscripts of Icelandic Sagas - dark tales of murder and mayhem. Eleanor is also an addict of Scandinavian TV crime dramas like The Killing and The Bridge and in her first piece for Night Waves she reflects on the possible relationship between Nordic Noir TV and Old Norse Tales.
Cornelia Parker: As a comprehensive inventory of sculptures and installations from 1970 to the present comes out, complete with commentary by the artist herself, her latest works go on show in London. As restlessly inventive as ever, Parker takes us round the exhibition and explains how cracks in pavements evolve into bronze monuments via molton rubber.
Last on
Cornelia Parker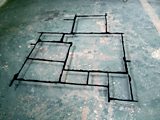 A new exhibition by Cornelia Parker is on at the Frith Street Gallery, London from Friday 7 June until Saturday 27 July 2013.
And the book Cornelia Parker written by Iwona Blazwick with a preface by Yoko Ono is published by Thames & Hudson.
Image: Pavement Cracks (City of London) 2012-13 by Cornelia Parker - Courtesy the artist and Frith Street Gallery.
Andrew Simms
Cancel The Apocalypse: The New Path To Prosperity written by Andrew Simms is published by Little, Brown.
Stephen D. King
When the Money Runs Out: The End of Western Affluence written by Stephen D. King is published by Yale University Press.