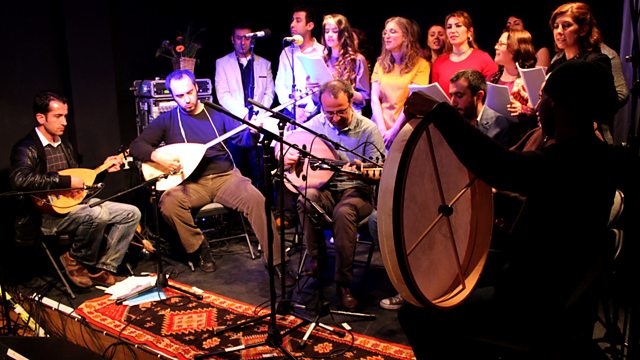 World Routes Academy with the London Turkish Community
Lucy Duran visits a musical event with London's Turkish community in a cafe in Stoke Newington. The Nefes Ensemble is joined by World Routes Academy protegee Fidan Hajiyeva in traditional songs from rural Turkey, and Brighton-born Turkish Cypriot Dogan Mehmet performs contemporary Turkish songs with a UK twist.
The Nefes Ensemble is a mix of amateur and professional performers, devoting themselves to presenting the folk songs of Turkey in their authentic forms. Nefes means 'breath', and they see themselves as expressing Turkey's cultural soul while living many miles away from their homeland. World Routes Academy protegee Fidan Hajiyeva learned Turkish as a child - their culture and heritage is close to that of her native Azerbaijan. Dogan Mehmet's background mixes his Turkish Cypriot heritage with English folk and American rock, and all these elements are evident in the eclectic style of his band the Boombox Karavan.
Last on