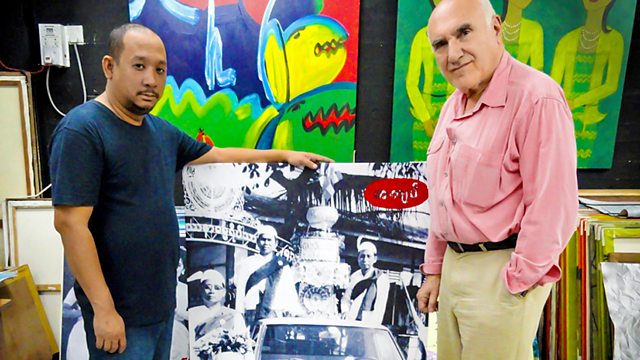 Burma: Art under Dictatorship
The documentary film-maker Rex Bloomstein travels to Burma to explore the country's cultural life during this period of extraordinary transition and asks how free now are its artists to express themselves? Bloomstein has visited Burma secretly twice in the last six years to make two documentaries, one on freedom of expression and the other on Zarganar, the country's greatest comedian.
During his last trip in 2010, all those he approached to be interviewed were too frightened to appear on camera. However, after the political reforms of the last few years, he encounters an artistic community who feel safe enough to speak out but who reveal how much censorship still exists.
Bloomstein meets with painter and performance artist Nyein Chan Su who describes how ten government officials from the Censorship Board came to his gallery earlier this year to inspect his politically themed paintings. The painter reveals that in the past the colour red was not allowed to be used because it suggested that the regime had blood on its hands.
The film producer Myo So discusses his two-year battle with the censors to get his 2010 film 'Nostalgia', about the student uprising in 1988, distributed without significant cuts even though the film contains no scenes of actual protest. Myo So is still fighting that battle.
Bloomstein meets with one of Burma's foremost contemporary poets Zeyar Lynn who has spearheaded a new form of Burmese poetry, freed up from using introspective and emotional language that was characteristic under previous dictatorships.
Han Htoo Lwin, one of Burma's most radical punk rock singers, describes the ways he has tried to defeat the censors through his lyrics and via his satirical radio show which was banned.
Bloomstein also discovers the scale of the country's cultural impoverishment, with so few places to study, view and exhibit art. He engages with those artists who through their work are fighting an ongoing battle for history and memory as they gradually become freer to confront their past.
Presenter: Rex Bloomstein
Producers: Simon Jacobs & Rex Bloomstein
First broadcast in June 2013.
Last on