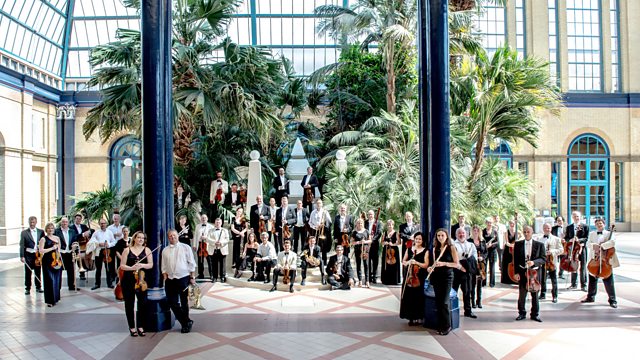 The Great Film Composers
Friday Night is Music Night - salutes the Great Film Composers. Ken Bruce presents the show from the Mermaid Theatre in London with the BBC Concert Orchestra conducted by Nick Davies.
A film without music? Unthinkable! Suspense; Romance; Comedy or Horror - film music adds to the magic of the silver screen.
In this special Friday Night is Music Night concert Ken Bruce introduces scores from the likes of Maurice Jarre(Lawrence of Arabia), Bernard Herrmann(Psycho and Vertigo), John William(Star Wars and ET), Ennio Morricone(Cinema Paradiso, Danny Elfman(Batman), James Horner(Titantic) and Howard Shore(Fellowship of the Ring). We'll also remember a couple of Great British film composers - John Barry and Ron Goodwin. Ken's guest's are the Olivier winning singer Leanne Jones and the young British violinist Tamsin Waley-Cohen. During the interval relive the chills and thrills of some of cinema's great horror moments.
The concert was first broadcast on 7th June.
Last on
An Insiders View by conductor Nick Davies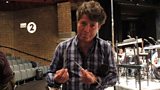 I was delighted recently to finally be able to say yes to conducting Friday Night is Music Night as it has been over 7 years since the last time I had the pleasure! Bridget Apps had asked on several occasions but due to now working so much in Scandinavia my schedule always clashed with the dates I was offered. All I can say for me, it was well worth the wait as I've had a great time seeing friends and colleagues within the orchestra and the wonderful memories of conducting this record breaking programme have come flooding back. As a 'younger' conductor Friday Night is Music Night offers many challenges often conducting different styles of music and swapping between genres within the programme. This has stood me in good stead with the now very popular cross-over programmes that orchestras throughout the world are doing. So I have a lot to thank FNIMN and the BBCCO for all the experiences gained when I first started conducting this production and as said, it's a pleasure to return after these past years away. The only down side happened during the rehearsal when I broke my baton, a baton which I have used for more than 15 years!! So it's a premiere performance for my spare baton which has waited patiently in the case for so long!! 
Conductors' Corner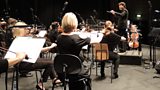 Conductor Questionnaire featuring….Conductor Nick Davies
1 Coronation Street or Eastenders
Not Watched either for year but as I used to live In Bethnal Green it would be Eastenders
2 Dunk or Crunch?
Gave up Caffeine 3 years ago but I'd say I was still a crunch and slurp kind of Guy!
3 Favourite Interval tipple?
Usually save my thirst for the end of the concert where that 1st pint of Ale is well worth the wait!
4 Sweet Or Sour?
Can I say savoury?
5 Sondheim or Bernstein?
Both! Sweeney Todd and West Side Story being particular favourites
6 Kaiser Chiefs or Khachaturian ?
In 1988 as a violinist I played an unforgettable season with the Bolshoi Ballet and had a great time playing Spartacus so it has to be Khachaturian.
7 Favourite venue?
The new concert hall in Stavanger, Norway
8 Favourite holidays destination?
What's a holiday?
9 Aria or showtunes?
Having conducted in the west end for over 15 years  I should say showtunes but I'm discovering the joys of conducting arias from the opera world more and more.
10 Quill and Ink or Twitter?
Closer to twitter but never used it. But how did we ever survive before mobiles, emails, viber and what's App!
The Interval - Tonight we look at some of cinema's great horror moments.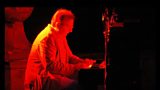 A musical exploration of the chills and thrills of some of cinema's great horror moments in the company of composer Neil Brand and film critic Rosie Fletcher. It's a bloodcurdling bolt through the music that scared us as much as the action in The Omen, Psycho, Bride of Frankenstein, The Exorcist, Carrie, The Wicker Man and The Shining.
Introducing Musician Kate Moore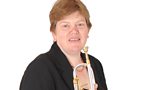 Name: Kate Moore
What instrument do you play? Trumpet
When did you start playing and why did you pick that instrument? When I was 12 in the local village band. I was given the choice of tenor horn or cornet. The cornet was easier to carry!
Who or what inspired you to play? I always loved the sound of the local village band. Our neighbours 2 daughters played cornet and tenor horn and I used to love listening to them practice. As I got into playing more I became aware of players like James Shepherd and the late great Maurice Murphy. Maurice was my idol and I had the good fortune to have him as a teacher for a while when I was studying at the Guildhall School of Music. An education I will never forget, Maurice was simply the best.
What's the most difficult aspect of playing? Although there are many physical demands involved in playing the Trumpet I would say that the most tricky aspect is a mental one, Concentration.
What part of your body suffers the most? Physically for me, shoulders and neck suffer the most. It is easy to get overly tense when performing especially when 99% of everything you do is recorded for posterity!
What's your favourite piece and why? I've got so many favourite pieces, where do I start? I guess film music is my favourite genre, particularly the music of composers like John Williams, John Barry and Thomas Newman of course (Skyfall).
What was your most memorable Friday Night and why? It really is impossible to choose a most memorable Friday Night. During the 25 years I have worked with the orchestra there have been so many great shows and great guest artists. Every show is special in its own way but I suppose in more recent years the Friday Night is Music Night that Brian Blessed introduced from Chichester stands out in my memory, we played all the big film tunes that night, Star Wars, Star Trek, Superman, Jurassic Park etc. Oh and there was the show from Falkirk! It was an outdoor concert and it rained non stop, we played to three old men a Dog and some Ducks. That's the BBC Concert Orchestra for you, the show must go on.