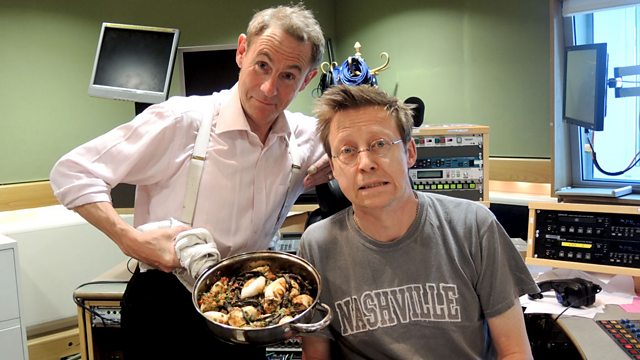 Foodie Thursday
It's Foodie Thursday and Nigel Barden will be cooking up another treat plus there's a brand new confession and sport, money and travel news.
Last on
Nigel's Squid Recipe
Bigoli (or Tagliatelli) al Nero with Baby Squid, Pine Nuts & Fennel Cress
by Andrea Mantovani from Mele e Pere, 46 Brewer St. London W1
Serves 4
Prep time 20 mins (plus overnight resting for pasta)
Cooking time 15-20 mins
Ingredients
16 baby squid, cleaned (1 x 3" or 2.5 x 8cm)
50g fresh red chilli, chopped
50g fresh parsley, chopped
20g garlic, sliced
150g tomato passata
1 tbsp olive oil
Extra virgin olive oil, to drizzle over top
10g fennel cress, to dress (or chopped parsley or fennel leaves)
16 wooden toothpicks
For the filling
60g     golden sultanas
60g     pine nuts
120g   squid
30g     garlic  
130g   prawns
40g     sundried tomato
20g     parsley
zest of 1 lemon
For the Bigoli (Nigel says don't worry if you buy fresh buccatini, or dried tagliatelli or spaghetti)
225g semolina
6 large or 8 small egg yolks
11g squid ink
40-50ml water
Method
1.    Combine the ingredients for the pasta together in a bowl, remove & knead thoroughly until as smooth a texture as possible is achieved. Don't add the water all at once. A little at a time as you mix the pasta ingredients. It should not be a wet dough & 30-40ml might be sufficient.
2.    Put back into the bowl & cover in cling film & leave to rest overnight in a cool place, or in fridge.
3.    Roll out the pasta into thin sheets about 2mm in thickness & 20cm long. Cut the sheets into strips about 20cm long & ½ cm wide.
4.    Blitz all the ingredients for the filling together until you achieve a homogenous but rough texture.
5.    Clean the baby squid & stuff with the filling (use a piping bag if you have one, or if not, a tsp).
6.    Use a toothpick to close the squid up.
7.    Cook the Bigoli in saucepan of salted boiling water until cooked but al dente (approx. 5-6 mins).
8.    In a separate pan, sauté the garlic & chilli in the oil until softened & add the passata. Drain the pasta & add to the pan & toss together with the chopped parsley.
        (If using bought in fresh pasta, add 4g of squid ink at this stage).
9.    At the same time that the pasta is cooking, colour the baby squid in a very hot pan with olive oil, until a golden colour on all sides.
10. Take the pan off the heat & transfer to a preheated 180C oven. Roast for 1minute.
11. Remove the toothpicks & cut the squid in half, across the middle.
12. Add the cooked baby squid to the pan with the pasta & toss together. Serve into plates with a drizzle of good quality extra virgin olive oil & the fennel cress.