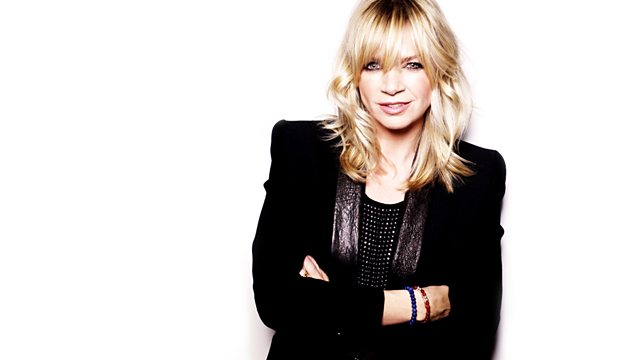 Zoe Ball sits in
Zoe Ball sits in for Chris, presenting a fully interactive show for all the family, featuring music, special guests and listeners on the phone.
Last on
Manic Street Preachers join the line-up for our festival in a day. Tickets on sale Friday
Pause for Thought
From Diane Louise Jordan, presenter of The Sunday Hour. 
Yesterday, in the run up to this year's much anticipated Glastonbury Festival, I interviewed the totally lovely Michael Eavis, founder of the event, who now co-organises it with his youngest daughter Emily.
Worthy farm, on whose land the festival takes place, has been in the Eavis family for generations, being passed onto the eldest son, 19 year old Michael, when his father died in 1958.
But oh how times have changed - today, we don't bat an eyelid that Michael broke with tradition and chose his youngest daughter, not his eldest son, to partner with him, and probably eventually take over running the family business.
And the fact it seems perfectly normal for this to happen, is maybe no small part due to the campaigning works of outstanding and courageous women like suffragette Emily Wilding Davison, who 100 years ago yesterday, fatally stood in the path of the Kings horse at the Derby in order for women to have the right to vote - inspired by the belief that if we're all made in God's image, which is both male and female, then surely that should be represented everywhere.  Emily died four days later....
Perhaps a legacy of Emily Wilding Davison's life is that young women today, like Emily Eavis, can assume virtually the same opportunities as men.  I say 'virtually' because, even today women aren't fully represented or accepted in all walks of life.
Emily Wilding Davision agitated to end what she called the 'intolerable torture of women" in regards to not having a political voice or identity, and sadly, today, in a literal sense there are women and girls in our global community who are still suffering 'intolerably', and I'm sure Emily Davison would be, like many of us, outraged by this.
But I wonder if she might feel some satisfaction knowing that her namesake is successfully running a world famous organisation because she, Emily Wilding Davison, cared enough to lay down her life.