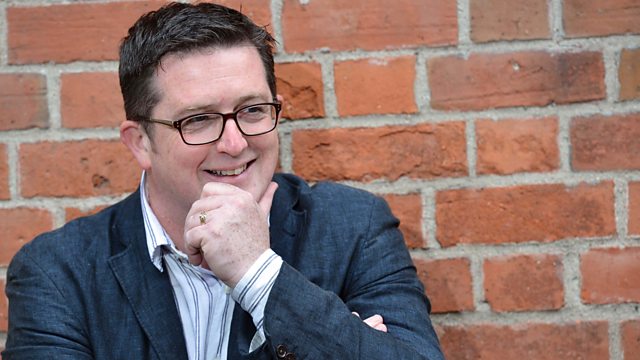 25/05/2013
John Toal looks at health, relationships, hobbies and family along with great music and chat, big interviews, fascinating people and great craic, plus recipes from Paula McIntyre.
Last on
Spinach & Chickpea Fritter with Flat bread, Beetroot Cumin Dip and Nettle Soup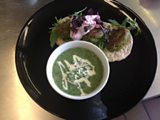 Spinach and Chickpea Fritter
1 tin chickpeas, drained
50g grated ginger
2 cloves garlic
½ teaspoon cumin seeds
1 teaspoon ground coriander
1 small red onion, chopped
125g spinach leaves
1 teaspoon turmeric
1 egg
½ teaspoon salt
100g self raising flour
Blend the chickpeas, ginger, garlic, cumin seeds, coriander, salt and onion in a blender. Bring a pot of water to the boil and add the spinach, cook for 10 seconds and then cool under cold water. Drain well in a sieve and pat dry.
Blend with the above and the egg and fold in the flour.
Heat a ¼ thumbnail depth of oil in a pan over medium heat and add spoonfuls of the batter. Cook for 2 minutes each side and drain on paper. 
Flatbread
150g wholemeal flour
100g plain flour
½ teaspoon salt
2 tablespoons oil
1 teaspoon baking powder
2 tablespoons natural yoghurt
100ml water
Mix the flours, salt, and baking powder in a bowl and make a well in the centre.
Add the yoghurt and oil and half the water. Mix in and add as much water to make a loose dough.
Cover with cling and leave for an hour.
Flour and surface and divide the mixture into 8 pieces.
Roll into ovals and cook on a hot dry frying pan for about 1 minute each side.
Cool on a wire rack.
Beetroot and Cumin Dip
1 small beetroot, peeled and grated
1 teaspoon toasted cumin seeds
Pinch salt
100ml yoghurt
Mix together.
Nettle Soup with Nettle and Walnut Pesto
Nettle Soup
225g chopped leeks
25g butter
2 medium potatoes, peeled and diced
1 litre vegetable stock
Bunch flat leaf parsley
Handful nettles
Cook the leeks in the butter over a low heat until soft.
Add the potatoes and stock and simmer for 30 minutes.
Pick the leaves from the parsley and set aside.
Add the chopped stalks to the soup.
Wash the nettles well and add to a pot of boiling water. Drain after 10 seconds and cool under cold water.
Take off the leaves and add 2/3 to the soup.
Blend and check seasoning.
Nettle and Walnut Pesto
Remaining 1/3 of blanched nettles from above
50g toasted walnuts
25g grated parmesan
Remaining parsley from above
75ml olive or rapeseed oil
1 clove  garlic, crushed
Blend together and check seasoning.
Ladle soup into bowls and top with a teaspoon of the pesto and a drizzle of cream.