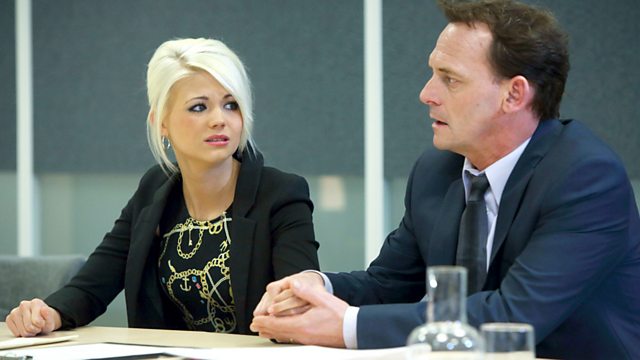 23/05/2013
It's the day of Lexi's court hearing and Phil makes the most of what could be his last few hours as Lexi's guardian. Lola is apprehensive when Phil tells her Sharon won't be coming to court giving her and Billy no explanation as to why. Outside the court room, everyone is worrying about the effect Sharon's absence will have on the case when she suddenly breezes in. Phil warns Sharon to leave but Sharon assures him she sorting herself out. Lola tries to stick up for Sharon but by doing so she puts her foot in it and makes Phil aware that she and Billy knew about Sharon's problem. Phil is disgusted that Lola knew and still left Lexi in Sharon's care. Sharon begs Phil not to ruin things for Lola but Phil has had enough and leaves. Billy follows in hot pursuit and decides to stand up to Phil, he's never asked him for anything but he begs him to make sure Lola gets Lexi back.
The hearing begins without Phil and Lola fears the worst. Sharon paints Lola as a fantastic mother to the judge and it seems to be going well but then Phil walks in and Lola and Billy are petrified about what he might say. Phil tells the judge that Lola is the best person to look after Lexi and Lola is so relieved she bursts into tears. The judge grants Lola a supervision order and can take Lexi home with her today. Phil is close to tears as he says goodbye to Lexi but he hands her over to Lola making her, Billy and Lexi a proper family again. Back at home, Abi, Jay and Dexter come round to congratulate her but Lola is busy putting Lexi to bed, mum and daughter reunited.
Tanya is concerned about Lauren's drink problem and confides in Jack who suggests they should talk to Lauren, however Lauren overhears their conversation and begins to worry. Tanya and Jack sit down with her but she assures them she is fine, she's just getting over Joey and is intent on getting back into her studies. Tanya is content with Lauren's explanation however, later, she finds Lauren's notepad where she hasn't done any more of her essay she promised.
After doing another test, Kirsty is still not pregnant so she decides to try and tell Max the truth. Nervous, she heads to the car lot and just as she is about to come clean to a concerned Max, she bottles it when her brother, Adam calls. Diverting from the real reason for turning up, Kirsty explains to Max that her ex-boyfriend Carl is being released from prison and wants to see her. Kirsty plays Adam's voice message and Max reassures her that he will protect her and the baby from any harm.
Janine and Alice are getting on well and Janine gives Alice some money as a treat for being a great nanny and taking Scarlett to a baby class. However, a guilty Alice takes Scarlett to meet a delighted Michael in the park.
Carol invites Masood over for dinner and Bianca realises that this date means more to her mum than she's letting on when she spends all day preparing. Masood arrives late and explains that he has to cancel because he has to urgently visit Syed. Bianca is thrown when an emotional Carol starts to cry and she comforts her.
Last on
Credits
| Role | Contributor |
| --- | --- |
| Lola Pearce | Danielle Harold |
| Billy Mitchell | Perry Fenwick |
| Phil Mitchell | Steve McFadden |
| Sharon Rickman | Letitia Dean |
| Jay Brown | Jamie Borthwick |
| Dexter Hartman | Khali Best |
| Jack Branning | Scott Maslen |
| Tanya Cross | Jo Joyner |
| Abi Branning | Lorna Fitzgerald |
| Lauren Branning | Jacqueline Jossa |
| Roxy Mitchell | Rita Simons |
| Kirsty Branning | Kierston Wareing |
| Max Branning | Jake Wood |
| Janine Butcher | Charlie Brooks |
| Alice Branning | Jasmyn Banks |
| Morgan Butcher | Devon Higgs |
| Tiffany Butcher | Maisie Smith |
| Masood Ahmed | Nitin Ganatra |
| Carol Jackson | Lindsey Coulson |
| Bianca Butcher | Patsy Palmer |
| Michael Moon | Steve John Shepherd |
| Hattie Brownlow | Amy Hall |
| Trish Barnes | Tessa Churchard |
| David Dessler | Tristan Beint |
| Judge Alex Madeley | Helen Schlesinger |
| Executive Producer | Lorraine Newman |
| Director | Lance Kneeshaw |
| Writer | Daisy Coulam |