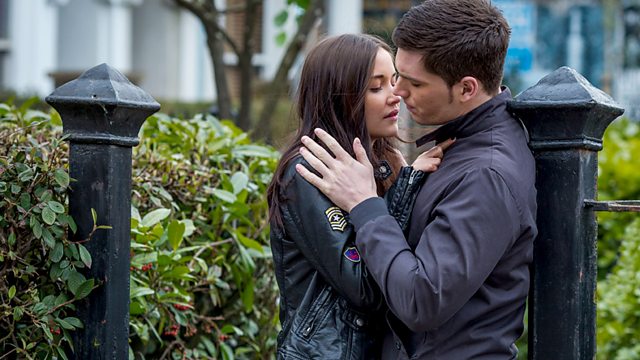 21/05/2013
After gently taking the unopened bottle of pills from Lexi, a panicked Phil frantically tries to wake Sharon. When she eventually comes round, Phil makes her count the tablets demanding to know if Lexi could've taken any and a shaken Sharon reassures him that she hasn't. Phil decides to allow Dennis to sleep over at a mate's and he asks Lola to look after Lexi whilst he deals with Sharon.
When Phil returns, he angrily questions Sharon about the painkillers and when she denies having a problem, Phil loses it and Sharon is forced to admit that they are the same pills she was on before. Sharon tries to explain but just digs herself into a hole and Phil knows from experience that she sounds like an addict. Sharon tries to prove to Phil that she doesn't need the tablets telling him to throw them away but Phil tips out her handbag to prove she has more pills. Phil is torn as he has everything he's ever wanted but can't put Lexi at risk and jeopardise the family losing her. Sharon reminds Phil that they are meant to be together forever but it's not enough, Phil can't live with a liar so he shows Sharon the door. Sharon desperately pleads with him but he throws her out onto the street leaving her with nowhere to go.
Lola is intrigued by the reason Phil is letting her look after Lexi for the night and feels nervous about being on her own with her. She calls Billy for support but decides not to put an end to his date with Ava. Just as Abi and Jay are about to leave for the cinema, Lola calls Abi. Abi and Jay go and see her to ensure she's okay and whilst there, Dexter arrives. Abi realises that Lola doesn't want to be on her own with Lexi and so they all decide to stay in with her.
Ava and Billy's date gets off to a promising start. Ava tells him she admires his closeness with Lola and he tells her he's trying to make up for lost time but this reminds Ava of Dexter's relationship with his father which puts a dampener on the evening. Billy apologises but quickly becomes aware it's not over between Ava and Sam. Ava tries to rekindle the date and leans in to kiss Billy but he can tell it's forced and suggests they take it slow. Billy questions Ava about Sam and is gutted when she doesn't deny that she could have feelings for him.
Jack visits Max at the car lot and gets more than he bargained for when he realises what Max and Kirsty are up to inside. Jack tells Max there's nothing keeping him in Walford, hoping Max will talk him around but he doesn't. Jack is then also rebuffed by Michael who is still angry at being left to deal with the business on his own. Just as Jack has given up all hope, he sees Amy waving from The Vic window and for the first time since coming back, feels welcome in the Square. Later, Max is suspicious when Kirsty diverts numerous calls on her mobile.
Joey finds Lauren drinking alone in The Vic and tries to sober her up by taking her for a walk. However Lauren gets the wrong idea and goes in for a kiss but Joey rebuffs her, leaving Lauren crying in Tanya's arms.
After a tough day with juggling The Vic with caring for Sasha and when faced with another ready meal for one, Ray is tempted by a home cooked dinner with Kim.
Last on
Credits
| Role | Contributor |
| --- | --- |
| Sharon Rickman | Letitia Dean |
| Phil Mitchell | Steve McFadden |
| Dennis Rickman | Harry Hickles |
| Lola Pearce | Danielle Harold |
| Billy Mitchell | Perry Fenwick |
| Ava Hartman | Clare Perkins |
| Kim Fox | Tameka Empson |
| Ray Dixon | Chucky Venn |
| Jack Branning | Scott Maslen |
| Max Branning | Jake Wood |
| Kirsty Branning | Kierston Wareing |
| Michael Moon | Steve John Shepherd |
| Jay Brown | Jamie Borthwick |
| Abi Branning | Lorna Fitzgerald |
| Dexter Hartman | Khali Best |
| Joey Branning | David Witts |
| Lauren Branning | Jacqueline Jossa |
| Tanya Cross | Jo Joyner |
| Executive Producer | Lorraine Newman |
| Director | Lance Kneeshaw |
| Writer | Rob Gittins |