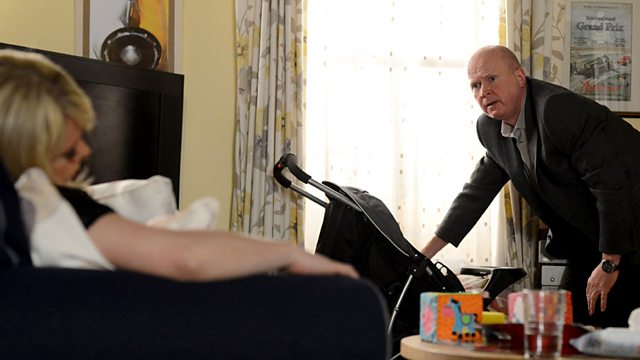 20/05/2013
Sharon is surprised when she notices that Jack has returned, and decides to pay him a visit. Fired up, Sharon tells Jack it doesn't have to be awkward between them, because everything has worked out for the best and she is with Phil now. That morning, Jack sees Phil in the Square and tells him he knows about his relationship with Sharon.
Phil visits Sharon in R&R and asks her why she didn't tell him Jack was back. Fragile, Sharon attempts to reassure him that she just wanted to get everything out in the open; however, Phil is clearly annoyed that she went to visit her ex. Later in the Vic, Jack tells Sharon he is glad that she is happy; unable to let it go, Sharon lets her guard slip and, in danger of losing it, tells him his apology doesn't make up for what he did to her and Dennis. Sharon heads off to collect Lexi, and on arriving home she collapses onto the sofa and takes more pills. When Phil arrives home, he is horrified to discover Sharon unconscious, with Lexi playing with the bottle of pills.
Alice tells Michael that she is fed up of being bossed around by Janine, and Michael advises her to stand up for herself. Later, after witnessing Janine snap at Alice, Billy warns Janine that she should treat Alice better, otherwise she'll lose her. Billy's advice backfires when Janine makes him look after Scarlett while she takes Alice for lunch. Janine is pleasantly surprised by the new feisty Alice after her pep talk with Michael. They start to get on well and Janine lets slip to Alice that she doesn't think Kat is right for Michael. Later, Alice reports back to Michael on her lunch with Janine and he asks Alice to bring Scarlett to see him behind Janine's back. Alice is reluctant at first; however, he turns on the charm to talk Alice round.
Lauren feels more alone than ever when she sees her friends having a laugh together in the Square without her, so she arranges a night out with sister Abi to lift her spirits. However, when Lauren sees Whitney, Joey and Lucy giving her the cold shoulder in the Vic, she soon turns to alcohol; by the time Abi catches up with her, she is too drunk to fulfill her promise.
After a run-in with Sam in the café, Dexter informs Ava that Sam is still in Walford. Ava tells Sam to leave, but he is determined to stay until he has made amends with his son. Billy witnesses their altercation and discovers from Tanya that Sam is Ava's ex-husband and Dexter's father. Later, Ava rearranges her date with Billy and, although dubious, he decides to accept. That evening, Ava is busy preparing dinner when Billy arrives, and he is pleased and surprised when Dexter welcomes him in with a smile before leaving them to it.
After Kim asks Ray to hand some flyers for the B&B out at the Vic, Kim is left wondering if their conversation was just business or a little bit more. Billy and Kim confide in one another about their insecurities, and both decide to take the plunge with Ava and Ray.
Last on
Credits
| Role | Contributor |
| --- | --- |
| Phil Mitchell | Steve McFadden |
| Sharon Rickman | Letitia Dean |
| Jack Branning | Scott Maslen |
| Janine Butcher | Charlie Brooks |
| Alice Branning | Jasmyn Banks |
| Michael Moon | Steve John Shepherd |
| Tanya Cross | Jo Joyner |
| Billy Mitchell | Perry Fenwick |
| Kim Fox | Tameka Empson |
| Ray Dixon | Chucky Venn |
| Jay Brown | Jamie Borthwick |
| Joey Branning | David Witts |
| Tyler Moon | Tony Discipline |
| Lucy Beale | Hetti Bywater |
| Lauren Branning | Jacqueline Jossa |
| Abi Branning | Lorna Fitzgerald |
| Dexter Hartman | Khali Best |
| Sam James | Cornell S John |
| Ava Hartman | Clare Perkins |
| Whitney Dean | Shona McGarty |
| Dennis Rickman | Harry Hickles |
| Executive Producer | Lorraine Newman |
| Director | Lance Kneeshaw |
| Writer | Rob Gittins |