Add music you love and enjoy it with
Broadcasts
BBC Radio 1Sun 26 May 2013 10:00 BBC Radio 1

Sun 26 May 2013 10:00 BBC Radio 1 N. Ireland

Sun 26 May 2013 10:00 BBC Radio 1 Scotland
#bigweekend live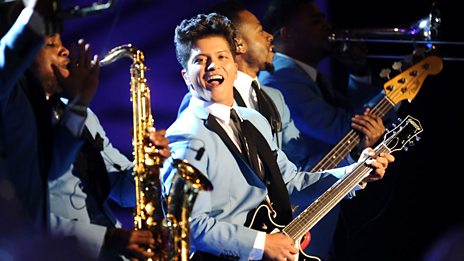 The final day of festivities in Derry~Londonderry plays hosts to perfomances from Paramore, Olly Murs, Vampire Weekend and Hawaiian legend Bruno Mars. We want to hear from you #bigweekend
Choosing what to sign-off a weekend like this with is a tough choice. Thanks so much for being with us.


Obviously I'd like to direct you to Friday's live blog and of course Saturday's live blog so you can relive Radio 1's Big Weekend for the REST OF YOUR LIFE.


However, the only way to finish properly is for everyone to watch these lads having the time of their life to Bruno Mars. It's been awesome. Bye!

There's so many amazing videos to watch from today. Here's some of our favourites. However, you can watch every single video from this wonderfully big weekend right here:




Let's watch a lovely bit of Paramore to calm you down before bed.

Watching Alive Levine and Greg James live on BBC 3. Bet Phil Taggart is WELL JEL.
Don't miss a moment of #bigweekend goodness