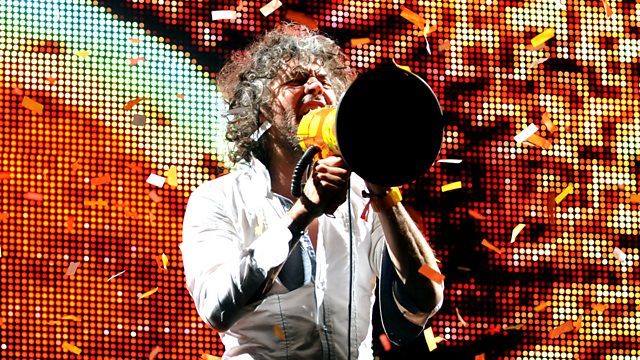 The Flaming Lips playlist
To launch a series of special programs surrounding The Flaming Lips on 6 Music, Tom and the 6 Music listeners devise a playlist to celebrate 30 years of their music and live performances.
With 30 years of ground breaking live shows behind them, The Flaming Lips have twisted themselves into one of the most inventive, and unique bands around. So what better time that now to celebrate the goofy costumes, flashing lights, confetti blasts and general genius of..The Flaming Lips. In a weeks time, we hand over control of 6Music to Wayne Coyne, as he presents his very own 6 Music Playlist and attempts to cover 30 years in 60 minutes, on Sunday May 26th at midday. Then, to wrap up the celebrations, the band will be live at Maida Vale, as they perform an hour long, greatest hits set for Steve Lamacq on Thursday 23rd May.
Tom will ask listeners to suggest songs that can complement a playlist dedicated to the band, considering their influences, peers, collaborators, samplers, fellow acts renowned for their extravagant live shows, and any other connections the listeners can conjure up.
Last on