Stuart talks to John Zorn and Pat Metheny about their new collaboration.
Add music you love and enjoy it with
Timings (where shown) are from the start of the programme in hours and minutes
Sväng

Lelita Ioanna

Svang, Aito Records, AICD005

FOLK IMAGES, BRIDGE RECORDS, BCD-9060

New History Warfare Vol. 2, Constellation Records, CST075 2

Edmund Rubbra

Eternitie from Five Motets

Performer: Voces Sacrae.

Choral Music, ASV, CD DCA-1093

WAGNER WEEK

Uri Caine

Der Ritt Der Walkuren

Wagner e Venezia, Winter & Winter, 910-013 2

Performer: Noszferatu.

Drempel, NMC, D-166

György Ligeti

Deuxieme Etude - Cordes Vides

Performer: Volker Banfield.

Études Pour Piano (- Premier Livre -) / Vingt Regards Sur L'Enfant-Jésus (Sélection), WERGO, WER 60134-50

Morton Feldman

Madame Press Died Last Week At Ninety

Performer: St Luke's Orchestra.

John Adams Conducts Orchestra of St. Luke's - American Elegies, Nonesuch, 7559-79249-2

Performer: Bavarian Radio Symphony Orchestra.

MUSICA VIVA, Vol. 17 - SCELSI, G.: Chukrum / 4 pezzi / Natura renovatur / Hymnos, NEOS MUSIC, NEOS10722

Richard Rodney Bennett

Friday's Child

My Keyboard Friends, DELOS RECORDS, DE 6002

Performer: Josep Colom.

Mompou - Complete Piano Works, MANDALA, MAN-480912

Jehan-Ariste Alain

Trois Mouvements Pour Violon Et Orgue

Performer: Clara Bonaldi. Performer: Georges Guillard.

Jehan Alain: Oeuvres instrumentales & vocales, Arion, ARN68321

Nimrod Workman

Rock The Cradle Alone

I Want To Go Where Things Are Beautiful, Drag City, DC379CD

Väsen

Rob's Polska

Vasen Street, North Side, NSD-6096

Flourescent Grey

Splatterbient

Ambiente Vol 1, Record Label Records, RLR3132

Loudon Wainwright

Dreaming

Grown Man, Charisma, 840625
Late Junction on BBC Playlister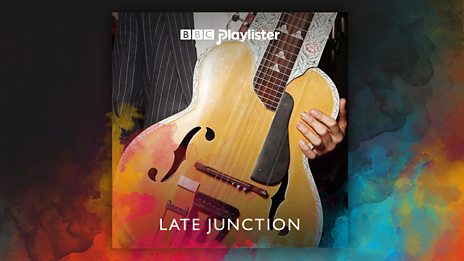 Selections from Radio 3's eclectic showcase of music from around the world.
Free download
Late Junction's unique studio sessions bring together musicians who have never recorded together…