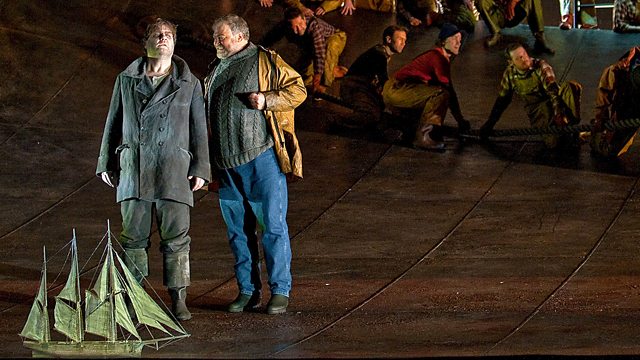 Wagner - The Flying Dutchman
Wagner 200: The Flying Dutchman
Katie Derham introduces today's Opera Matinee performance of the hugely acclaimed 2009 Royal Opera House production of The Flying Dutchman, starring Bryn Terfel as the ghostly sea captain who is doomed to sail forever unless he is redeemed by the love of a faithful woman. The opera is performed as Wagner originally intended, without intervals.
Wagner: Der fliegende Hollander (The Flying Dutchman)
The Dutchman ..... Bryn Terfel (baritone)
Senta ..... Anja Kampe (soprano)
Daland ..... Hans-Peter Konig (bass)
Erik ..... Torsten Kerl (tenor)
Steersman ..... John Tessier (tenor)
Mary ..... Clare Shearer (soprano)
Chorus and Orchestra of the Royal Opera House, Covent Garden
Marc Albrecht (conductor).
Last on