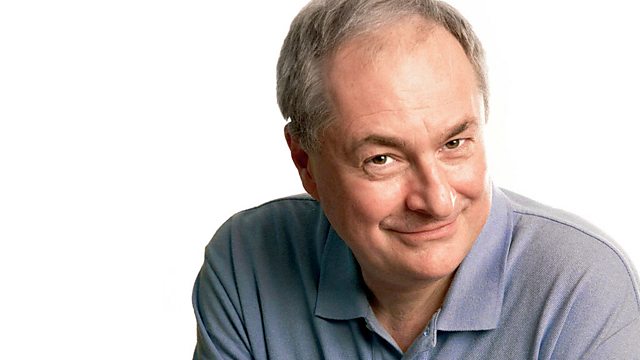 (3/13)
Paul Gambaccini is in the chair for the third heat in the 2013 series of the general knowledge music quiz, from MediaCity in Salford.
The three competitors answering questions on all styles and aspects of music come from Dumfries, West Yorkshire and Cardiff. As well as demonstrating a broad general knowledge of music they'll also have to 'specialise' in a topic they've had no preparation for - chosen from a list Paul will give them half way through the show.
There are plenty of surprises and musical extracts to identify, familiar and not so familiar. The winner will go through to the semi-final stage of the 2013 competition in July.
Producer: Paul Bajoria.
Last on
THIS WEEK'S CONTESTANTS
CHERYL EASTON, a museum attendant from Thornhill in Dumfriesshire;
DAVE TILLEY, a semi-retired manager from Hebden Bridge in West Yorkshire;
GEOFF TRINICK, a retired civil servant from Penylan in Cardiff.
MUSIC PLAYED IN HEAT 3
Round One
Richard Strauss: Alpine Symphony - 'On The Summit' (Dresden Staatskapelle/Kempe)
Tom Kelly/Billy Steinberg: 'Like A Virgin' from Moulin Rouge original soundtrack (Jim Broadbent/Richard Roxburgh)
Bergman/Hamlisch: 'The Way We Were' (Barbra Streisand)
Miles Gregory: 'Love Don't Live Here Anymore' (Rose Royce)
Bernstein: Candide - 'The Best of All Possible Worlds' (Robert Rounsville & 1956 Broadway cast)
Johann Strauss II: 'Thunder & Lightning' Polka (Berlin PO/Karajan)
Julie Andrews & Doris Day
Sandy Wilson: The Boyfriend - 'I Could Be Happy With You' from 1954 Broadway cast recording (John Hewer/Julie Andrews)
Ray Evans/Jay Livingston: 'Whatever Will Be Will Be' (Doris Day)
Stephen Sondheim: Company - 'Getting Married Today' (Julie Andrews)
Classic Albums of the 1970s
Roger Waters: 'Sheep' (Pink Floyd)
Tim Rice/Andrew Lloyd Webber: Evita - 'High Flying, Adored' from original studio album (C.T. Wilkinson)
Maurice White/David Foster/Allee Willis: 'In The Stone' - intro (Earth Wind & Fire)
Joan Sutherland & Kiri Te Kanawa
Handel: Samson - 'Let The Bright Seraphim' (Kiri Te Kanawa/ECO/Sir Colin Davis)
Puccini: Turandot, Act II - 'In Questa Reggia' (Joan Sutherland/London PO/Zubin Mehta)
Rodgers & Hammerstein: South Pacific - 'Honey Bun' (Kiri Te Kanawa/LSO/Tunick)