World Child Cancer
Graham Norton presents the Radio 4 Appeal for World Child Cancer
Reg Charity:1120321
To Give:
- Freephone 0800 404 8144
- Freepost BBC Radio 4 Appeal, mark the back of the envelope World Child Cancer.
Last on
World Child Cancer
For any parent, having a child diagnosed with cancer is one of the worst things imaginable. Sadly for many parents in low and middle income countries the diagnosis is made worse as survival rates are far lower than they should be, as low as 10%. Whilst in high income countries, survival rates for child cancers are around 80%.
Quite simply, children are dying because of the knowledge gap between rich and poor countries. Worse still, many are dying without any effective pain relief.
Our vision is to see a world where every child with cancer has access to the best possible treatment and care.
We work to improve cancer diagnosis, treatment and care for some of the world's poorest children by creating twinning partnerships linking hospitals in developed and developing countries. These partnerships create a two-way transfer of expertise and skills to develop locally appropriate and affordable solutions to the problem of child cancer.

A World Child Cancer patient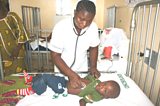 A young boy like Kwame in Accra, Ghana
What happened to my stethoscope?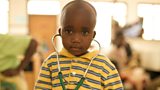 A budding doctor in Ghana!
Malawi patients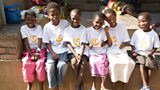 Patients at the World Child Cancer project in Malawi
Join our Facebook Community
The place where you can find out more about the charities you support and ask them how they are spending your donations.