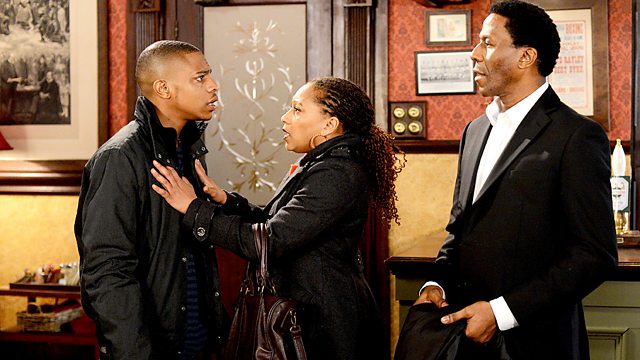 17/05/2013
Sam has stayed the night in the B&B, and it's clear Kim is very taken with him. With no food in the B&B, Kim takes him along to the café, but Sam is surprised to see Dexter. Still thinking his name is Jacob, Dexter is convinced he is a much better match for his mum than Billy Mitchell. With this in mind he sets about plotting to get them together and, with the support of Cora and Abi, he gets them both to agree to meet him for a drink in the Vic that evening.
As Sam sits with Dexter, it is clear he is intrigued by his son and wants to stay longer, but Sam realises it is not a good idea; with Ava's words in his mind, he goes to leave. However, just as he does, Ava arrives and she is not happy to see Sam. Dexter is taken aback by the frosty atmosphere between the two and, as an argument ensues, Ava calls him Sam. It doesn't take long before Dexter realises he is standing in front of his father. Shocked at his mum's betrayal, Dexter storms out of the Vic...
As Lucy has a meeting with the bank manager, she leaves Ian in charge of the café and hands over a few tasks to do, including paying the suppliers with a blank cheque she has left. However, things do not go to plan for Ian when the builders at the restaurant burst a pipe. Realising Sam is a builder, Ian asks for his help, but Sam makes it clear he needs to leave Walford today. After some convincing, Sam takes the job on, but it ends up being a bigger and more expensive job than Ian expected. Ian takes the last £300 from the stash he found but, needing more money, he is forced to use the blank cheque Lucy left him to pay the suppliers. When Lucy later returns to the café, she is pleased that Ian has everything under control, but Ian is ridden with guilt.
Alice is anxious ahead of her first day of work with Janine, but Michael uses his manipulation of her to encourage her that she is doing the right thing. Alice is nervous around Janine and her day does not get off to a good start, as she becomes particularly clumsy due to being intimidated by Janine. Alice considers leaving but, when she realises that Janine is nervous about how to deal with Scarlett, the tension is dissipated and Alice gives Janine a few bits of advice to help her out. However, when Alice later sees Michael, he is pleased when she reports back on her day with Janine, clearly using Alice for his own gain.
Billy is disappointed to find that Ava seems uncertain about rearranging their date. He is made to feel worse when Phil oversees an awkward exchange between them and proceeds to wind Billy up. Billy feels dejected and can't work out what's going on; even Shirley doesn't miss the opportunity to mock him. Feeling disheartened, Lola does her best to cheer him up.
Bianca is starting to feel left out, with Whitney planning her wedding and Carol back in action with Masood. Whitney soon realises Bianca is jealous when she tries to ruin Carol's date night by making her stay and look after the kids, so Whitney offers to stay with them instead and she calls Bianca out on her behaviour. Realising Whitney is right, Bianca apologises to Carol.
Last on
Credits
| Role | Contributor |
| --- | --- |
| Dexter Hartman | Khali Best |
| Sam James | Cornell S John |
| Ava Hartman | Clare Perkins |
| Billy Mitchell | Perry Fenwick |
| Denise Fox | Diane Parish |
| Ian Beale | Adam Woodyatt |
| Lucy Beale | Hetti Bywater |
| Kim Fox | Tameka Empson |
| Ray Dixon | Chucky Venn |
| Carol Jackson | Lindsey Coulson |
| Bianca Butcher | Patsy Palmer |
| Alice Branning | Jasmyn Banks |
| Janine Butcher | Charlie Brooks |
| Michael Moon | Steve John Shepherd |
| Jay Brown | Jamie Borthwick |
| Abi Branning | Lorna Fitzgerald |
| Cora Cross | Ann Mitchell |
| Lola Pearce | Danielle Harold |
| Phil Mitchell | Steve McFadden |
| Shirley Carter | Linda Henry |
| Whitney Dean | Shona McGarty |
| Executive Producer | Lorraine Newman |
| Director | John Howlett |
| Writer | Katie Douglas |