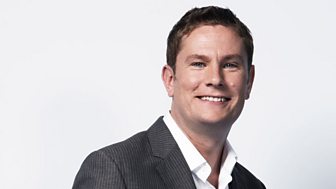 Phil Williams
The big stories of the day, plus the latest news and sport and a look ahead to what is expected to make the headlines tomorrow
Helen Mirren has 'a great deal of admiration' for Italian judiciary fighting the Mafia.

Smart jacket for homeless people allows cash-free donations.

Photo of runner finishing last in a 5K race sparks a huge reaction online.

A retiring sergeant is 'devastated' he can't keep his police dog after 34 years service.

Micro-artist Graham Short hints to whereabouts of remaining Jane Austen engraved £5 note

Mary Berry says Bake Off return will be "lovely"

Alfie the dog had no training at all - he's a natural talent.
Britain's place in Europe
On Wednesday, 2 April, Nigel Farage and Nick Clegg will again debate the future of Britain in the EU, this time on the BBC.  And after the leaders have had their say we want to hear what you think. 
We'd like a group of 5 live listeners to watch the debate at 5 live's studios in Salford and then give us your view, live, from 10:30pm.  To have your chance to take part - email phil@bbc.co.uk with your contact details and why you want to take part, and we'll be in touch.  
For, against, or undecided about Britain's place in the EU, have your say on where Britain's future lies. Email phil@bbc.co.uk.