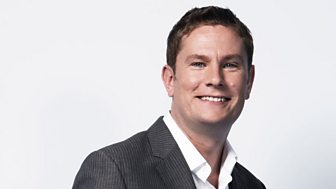 Phil Williams
The big stories of the day, plus the latest news and sport and a look ahead to what is expected to make the headlines tomorrow
Entertaining chat and interviews covering sport, showbiz and news with Phil William.

A new report claims the NHS could be losing up to £5.7 billion a year because of fraud.

20 years on, Marti Pellow and Graeme Clark share their reaction to the song's success.

Grandmother Angela Evans tells how she played dead as Tunisian gunman stood inches away

Jersey minister apologises for wasting money by getting a flight to the wrong country.

Actress Ronni Ancona says Mr Tumble is "back to basics comedy".

Paracetamol challenge is stupid: parent of woman who died after overdosing on tablets

Comedian John Cleese forgets Piers Morgan's name on air: then calls him a "third-rater".

Witnesses say it took 10 minutes for Alton Towers staff to reach crashed ride

Robbie Savage clashes with Katie Hopkins over her dementia 'bed blocking' comments.
Britain's place in Europe
On Wednesday, 2 April, Nigel Farage and Nick Clegg will again debate the future of Britain in the EU, this time on the BBC.  And after the leaders have had their say we want to hear what you think. 
We'd like a group of 5 live listeners to watch the debate at 5 live's studios in Salford and then give us your view, live, from 10:30pm.  To have your chance to take part - email phil@bbc.co.uk with your contact details and why you want to take part, and we'll be in touch.  
For, against, or undecided about Britain's place in the EU, have your say on where Britain's future lies. Email phil@bbc.co.uk.