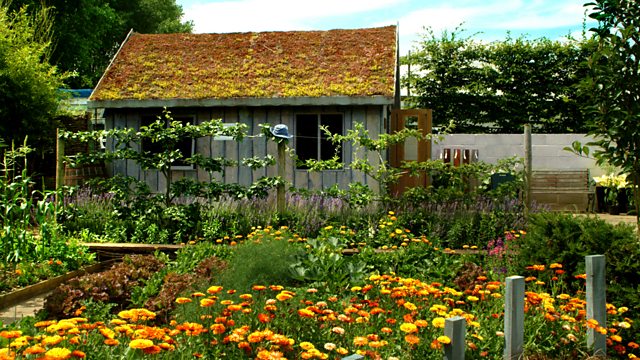 Postbag edition, Sparsholt
Listen in pop-out player
A postbag edition from the potting shed at Sparsholt College, hosted by Eric Robson with Matt Biggs, Christine Walkden and Pippa Greenwood answering listeners' questions sent in by post and email.
Produced by Victoria Shepherd
A Somethin' Else production for BBC Radio 4
GQT Amended Billings 17/05/13
Q. I live in a flat with no garden. I was given some Amaryllis seeds, which I've grown using the instructions. Now they have flowered and developed seedpods, what should I do with them?
A. You could try growing the seeds on. Let the seedpods mature, and then sow them in some seed and cutting compost. When removing the pods they should be dark green and just beginning to split slightly. Once you've taken them off and sowed them, allow the plant to dry back naturally. Once the leaves turn and intense yellow colour decrease the water till the plant is dry. Place it outside and take off the dead foliage, wait till next September to water it again and bring it back to growth. It can be a few years until you see results, but it's worth it!
Q. I have a small pond that has been ignored for several months and now sprung a leak. It's situated between two garage walls that block out any sunlight. Can you suggest something interesting and low maintenance to put in its place?
A. You could turn it in to a bog garden. Some plants have probably colonized naturally already. This is a great chance to create an area to have some bog or marginal plants as they can cope with the shadiness. Astible, Hostas, Calylophus and Primulas plants (Primula Borealis) would be a good low-maintenance option. Eriophyllum Wallacei is a very usual plant that is also very easy to grow. It is worth bearing in mind that plants suited to boggy areas can be very vigorous so it's best to seek advice from a specialist nursery.
Q. I'm worried about the vast number of trees being killed by increasing ivy infestation. Is there something we as gardeners can do?
A. Ivy does not kill trees. As it grows taller it increases in weight and surface area, which can act as a 'wind sail' in adverse weather conditions, although this would only affect already weak trees. Overall the benefits of Ivy outweigh its ill effects, as it is a valid food source for many animals and insects.
Q. I have recently replaced my boiler and the vapor coming out of the flume is damaging my Passionflower. Can you suggest a climbing plant that give year round interest and withstand the water vapor?
A. Akebia Quinata is a rapid grower with beautiful purple-brown flowers that would appreciate the warmth and humidity. Climbing Hydrangea would be another option as it's self-clinging and always flowers. However no plant can survive if the conditions are too hot, so make sure this isn't the case.
Q. I have just rediscovered a small patch of rich and loamy soil. It's tucked away in to the corner, facing southeast, with mature hedges either side. What does the panel suggest I plant in this space?
A. Just about anything will grow well. If it's well protected it would be a great place to grow something tender or raise crops earlier and/or carry them over at the back end of the season. An early crop of tomatoes or an outside pepper would be well suited. Anything leafy (spinaches, chard, kale) would also do well in this area as they like plenty of moisture.
Q. My Mum's garden is over run with a hardy Geranium. How can we get rid of them without using harsh chemicals? Is there a plant they don't like which we can put next to them?
A. Without using a weed killer, getting rid of it will be very difficult. You could cover the area with a dark material to starve it of sunlight, but this would take 2-3 years before it's effective. Geraniums are very tough and resilient so finding something else to plant that it doesn't like isn't an option. Perhaps purchase a weed killer you can apply directly in gel form, so no other plants will be affected.
Q. My partner would like to grow a Feijoa Tree (Acca Sellowiana). Is it possible to grow a self-pollinated version, in a pot, by an east-facing wall in a London garden?
It would need to be in a sheltered, preferably south or southwest facing spot. It's best to grow it in a loam-based compost using a slow release fertilizer to begin with. Keep an eye on it, as it will need re-potting. It will also need frost protection (some horticultural fleece will do in the microclimate of the city). You don't need a second one in order for it to pollinate, although you can 'tickle' it with a paintbrush to help with this process. Don't expect a massive crop of fruit, but the sepals from the tree taste like fruit salad so definitely give it a go!
Q. Recently in my large London garden I took down a diseased Willow Tree. Now left with a stump, I've decided I would like plant something spectacular on top of it. What do you suggest?
A. Elaeagnus Ebbingei Quicksilver has lovely silver foliage and little cream flowers that smell beautiful. Dephne Odora Aureomarginata also ha
Last on
Seven things Prince Charles says you should do in the garden