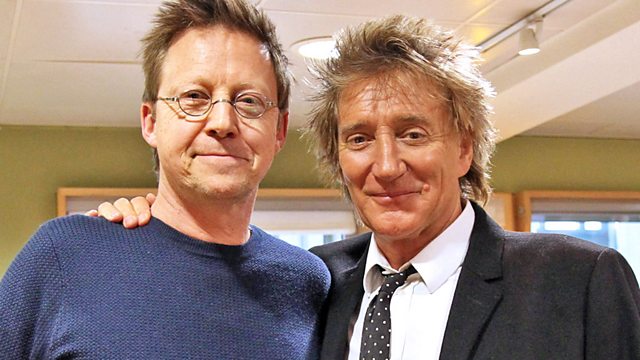 16/05/2013
Join Simon Mayo and chef Nigel Barden for another Foodie Thursday! Plus star of tonight's In Concert, Rod Stewart, pops in for a pre-gig chat.
There's another brand new confession for the team to consider, Matt has the sports news, Rebecca is on the money and Sally updates the travel.
Last on
Nigel's Recipe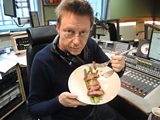 <?xml:namespace prefix = o ns = "urn:schemas-microsoft-com:office:office" /> 
Grilled Miso Truffle Steak
By Gizzi Erskine from Skinny Weeks & Weekend Feasts (Quadrille)
Serves 2
Prep time:  15 mins (+ optional 30 mins marinating time
Cooking time:  10 mins
Ingredients
50ml sake
50ml mirin
150g white miso paste
50g agave nectar
1 tbsp white truffle oil
1 x 300g onglette steak or 2 x 150g fillet steaks
200g asparagus spears, trimmed
1 tsp sesame oil
1 tsp sesame seeds (I like a mix of black & white)
Method
1.    Bring the sake & mirin to a boil in a medium saucepan over a high heat.
2.    Boil for 20 secs to evaporate the alcohol, then lower the heat, add the miso paste & stir to combine.
3.    When the miso has dissolved, return to the boil, add the agave & cook for 1 min, stirring constantly to ensure it doesn't burn.
4.    Remove from the heat & add the truffle oil.
5.    Rub your steak(s) with a couple of tablespoons of the miso-truffle sauce & leave to marinate for up 30 mins.
6.    Heat a griddle pan until smoking, add the meat & grill for 2 mins on each side, or until medium rare (I would definitely cook these cuts pink).
7.    Whip off the grill & set aside to rest for 5 mins.
8.    Meanwhile, blanch the asparagus for a minute or so, in boiling water.
9.    Drain, then throw into the griddle pan & grill for a minute on each side.
10. To serve, arrange the asparagus on a plate.
11. Slice the beef & lay it over the top of the asparagus, then spoon 1 tbsp of the miso-truffle sauce over each steak.
12. Drizzle over the sesame oil & scatter over the sesame seeds to finish.
Nigel's Top Tips
•      Make a big portion of the miso sauce as it lasts in the fridge for a good few weeks & is like savoury toffee.  Wonderful slavered over just about everything.
•      Agave syrup is a good substitute for gomme syrup when making a Margarita, as it has a perfect affinity with Tequila.
•      Truffle oil is a good reasonable store cupboard ingredient & a little goes a long way.  However, you can omit the truffle oil; it's still a great dish.
Today's Most Popular Tracks
Most added tracks from this show