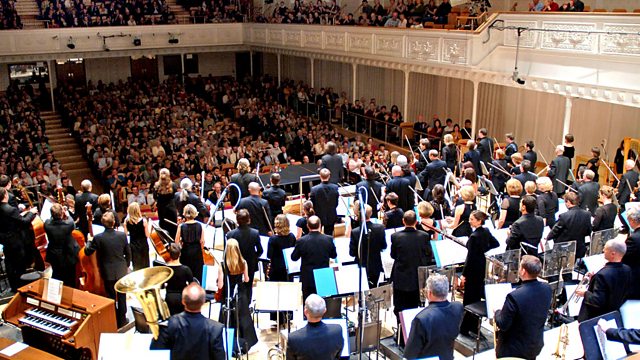 Live From City Halls, Glasgow
Presented by Jamie MacDougall
BBC Scottish Symphony Orchestra and Artist in Association Matthias Pintscher perform Stravinsky's Rite of Spring. Tine Thing Helseth and Marco Blaauw join the forces to perform the UK premiere of the double trumpet concerto composed by Pintscher inspired by Stravinsky's work and the artist Anselm Kiefer. The concert opens with Bach, demonstrating that revolutions don't have to start riots.
J.S. Bach: Suite No 2 BWV 1067
Matthias Pintscher: Chute d'Étoiles - Hommage à Anselm Kiefer
Tine Thing Helseth (Trumpet)
Marco Blaauw (Trumpet)
BBC Scottish Symphony Orchestra
Matthias Pintscher (Conductor)
In the closing concert of the BBC Scottish Symphony Orchestra's 2012-13 Season - the orchestra's Artist in Association Matthias Pintscher conducts a concert celebrating the centenary of the shattering premiere of Stravinsky's ballet, The Rite of Spring.
Premiered in Paris on 29th May 1913, with revolutionary choreography by Vaslav Nijinsky for Sergei Diaghilev's Ballets Russes, Stravinsky's music, depicting a pagan rite in spring, included many new techniques, sounds and rhythms that continue to influence composers to this day.
Tonight's conductor and composer Matthias Pintscher is certainly influenced by Stravinsky's writing, and in the UK premiere of his double trumpet concerto Chute d'Étoiles, he pays homage to the great German artist Anselm Kiefer's 2007 installation in the Grand Palais, Paris, a great experiment in weight and movement conjuring a shower of falling stars and exploring creation and destruction, emerging and obliteration.
Music by Bach, who perhaps explored the same themes from an overtly religious point of view, starts the concert musically over 260 years before it finishes.
Last on
More episodes
Previous
You are at the first episode