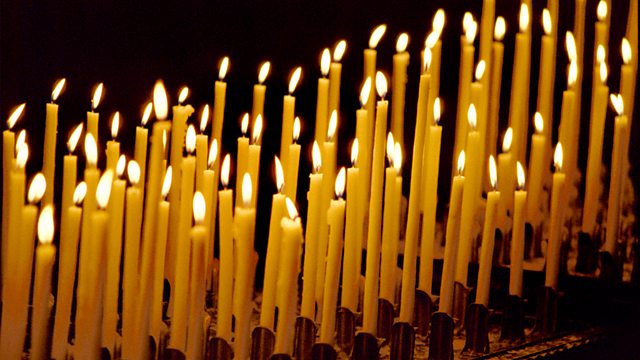 09/05/2013
A spiritual comment and prayer to begin the day with The Revd Dr Peter McGrail of Liverpool Hope University.
Last on
Revd Dr Peter McGrail, Liverpool Hope University
Good morning. Today is the fortieth day after Easter Sunday, the day kept by many Christians as Ascension Day – and marked by Radio 4 this evening at 8 o'clock by a service from St Martin in the Fields in London.  Ascension Day is a feast of paradoxes and tensions that reflect the paradoxes and tensions at the heart of all our lives. The tension of living in time, and yet being aware of time slipping away from us always, of loving and holding, and losing. The paradox of living concretely in this reality which is all we know, yet being capable of imagining realities beyond it, and, indeed, being invited into that imagining as we struggle with our experiences. Such is the fabric of our lives, and also the stuff that feeds the human religious quest.
Ascension day marks the experience of the first disciples in having to let go of the one they had known as the risen Jesus, and of entering into a place of no longer seeing, of no longer touching – and yet believing him to be with them always.  Neither the word 'Ascension,' nor the traditional imagery of Jesus disappearing upwards do justice to the complexity of what the feast seeks to convey; there is more here at play than the physical translocation of one they had known. The disciples enter into the almost universal human experience that the divine is both close and beyond reach, active in time and space and beyond time and space, simultaneously absent and present.
Help us, O God, to perceive you in all life's experiences and be particularly with those who are struggling with life's complexities. Amen