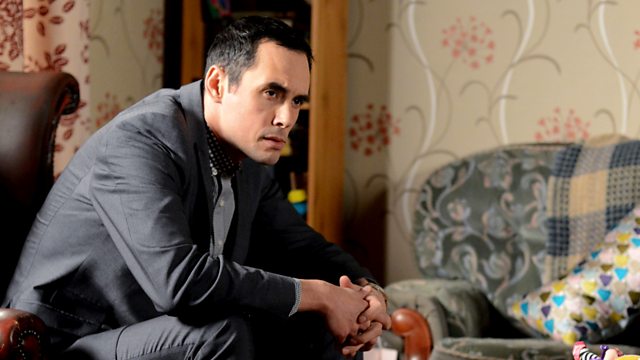 06/05/2013
When Janine doesn't bring Scarlett over as planned, Michael retaliates, sweeping everything off her Butcher's Joints desk. Michael's frustrated when Janine threatens him with an injunction. He calls Alice an idiot for breaking his newly installed baby gate. Alice and Kat fix the gate. Kat later finds Michael drinking and the gate smashed. Michael sends Kat away, but once he's alone fights back tears.
Lola can't allow herself to get excited when a date's set for her final court hearing. Sharon avoids looking after Lexi. Sharon wants her painkillers back but Lola says she's flushed them. Sharon promises to tell Phil about the pills but when she arrives home Phil's anxious about the hearing date and angry that Sharon forgot to pick up Dennis.
Ian's struggling to find waitresses. Janine's scathing about the restaurant name 'Ian Beale @ Le Square' and Lucy thinks the whole thing's a joke. Denise defends Ian. Ian's keen for a property developer Lister knows to open the restaurant. Ian makes injured builder, Jozef, take the afternoon off unpaid to go to hospital but later finds him drinking in the Vic. Ian admits to Lucy he's stressed. She thinks she's found a solution to his waitress problem.
Kat sees Roxy leaving the doctor's surgery. Roxy and Alfie have snuck upstairs to start trying for a baby when Kat visits, hoping they'll have Tommy overnight. Kat spots a 'planning your pregnancy' leaflet. Roxy walks in and suggests they pretend not to have seen it. Kat returns home upset.
Ava alters Dexter's shirt. Dexter's sullen until Ava finally goes for a drink with Cora. The atmosphere's strained and when talk turns to Cora's feelings after giving Ava up, Ava walks out, revealing the meeting was part of a deal.
Lister asks Tamwar if anyone's gossiping about him and doctored photos.
Last on
Credits
| Role | Contributor |
| --- | --- |
| Ian Beale | Adam Woodyatt |
| Kat Moon | Jessie Wallace |
| Roxy Mitchell | Rita Simons |
| Alfie Moon | Shane Richie |
| Michael Moon | Steve John Shepherd |
| Janine Butcher | Charlie Brooks |
| Alice Branning | Jasmyn Banks |
| Joey Branning | David Witts |
| Lucy Beale | Hetti Bywater |
| Bianca Butcher | Patsy Palmer |
| Phil Mitchell | Steve McFadden |
| Lola Pearce | Danielle Harold |
| Dexter Hartman | Khali Best |
| Ava Hartman | Clare Perkins |
| Cora Cross | Ann Mitchell |
| Billy Mitchell | Perry Fenwick |
| Denise Fox | Diane Parish |
| Mr Lister | Nick Wilton |
| Sharon Rickman | Aleksandar Mikic |
| Executive Producer | Lorraine Newman |
| Director | Rupert Such |
| Writer | Christopher Reason |