The Food and Environment Research Agency, York
Listen in pop-out player
Eric Robson chairs GQT with gardeners at The Food and Environment Research Agency in York. On the panel are Bob Flowerdew, Pippa Greenwood and Alison Pringle.
Produced by Howard Shannon.
A Somethin' Else production for BBC Radio 4
Questions answered in the programme:
'Busy lizzies' hit by impatiens Downy mildew
For more information on how gardeners can spot Downy mildew and to download a plant healthcare factsheet, please visit The Food and Environment Research Agency website: www.fera.defra.gov.uk/
FERA are also requesting that growers once again send any impatiens showing symptoms of downy mildew to: Dr Phil Jennings at The Food and Environment Research Agency, Plant Protection Programme, Sand Hutton, York, YO41 1LZ. (The top growth of the plant should be segregated or separated from the roots to prevent contamination of the leaves with growing medium. Plant material should be labelled with the variety and supplier, wrapped in paper tissue within a plastic bag and posted to arrive Monday-Friday so that the samples can be immediately inspected upon delivery.)
Q. We have a small, communal, edible garden within the city walls. We would like it to be productive and decorative all year round, especially over the winter months. What do the panel suggest?
A. The best winter crop would be a straightforward vegetable, as they grow straight from the ground. Leeks would be good but not decorative. The curly leaved cabbages, such as the Savoy cabbage, would be a good option. Parsnips would be most suitable as they are better once they've had a bit of frost. You could espalier or cordon a fan-trained fruit (apples, cherries, figs) for decoration but it probably wouldn't crop in the winter. Radicchios look fantastic in their burgundy and white swirls. For the more sheltered areas you could grow Chard, which would stay throughout the winter and the silver stems versions also look lovely. A dark-leaved Kale such as the 'Tuscan black Kale' would highlight the Chard and Radicchio really well and are well suited to a city environment.
Q. A previously dry, sunny border has recently become shady. What would the panel suggest we plant in this place?
A. Most plants can cope with shade; the dryness is a more pressing problem. Choose plants with large root systems and almost anything other than moisture lovers. Baggesens Gold and Lonicera would brighten up the dark space. Mohnia would also be suited to this area along with Sarcococca, which smells beautiful in the winter. Rukus plants do well in the shade. You could also try White Foxglove, which blooms white flowers that would stand out in the shade. Fern plants, such as Matteuccia the shuttlecock Fern also survive in dry soil.
Q. I have four delphinium plants but only tend to get one stem from each and they don't produce many flowers. Is there anyway I can get them to stem and produce more?
A. Delphinium plants like lots of food and moisture so surround them in either horse manure or homemade compost about two to three inches thick and make sure they have enough moisture.
Q. We have a 2-3 meter wide herbaceous border against a west-facing wall. We want to increase the red and yellow flowering plants, what would the panel recommend?
A. For the yellow sections try Alchemilla Mollis or tree peonies in a lemon colour. Daylilies would also suit and have edible petals. For a bigger blousy flower try Ranunculus, which are red or yellow. The Monarda plant would be a good addition as it's red in colour and has a lovely smell. For foliage in the border try the unusual catmint plant 'nepeta govaniana' as it's airy delicate structure would be a good contrast among the bright flowers.
Last on
Pippa, Phillip and possibly the only flowering Busy lizzie in the UK!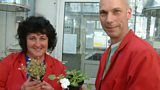 Pippa Greenwood meets Phillip Jennings, Senior Plant Pathologist at the Food and Environment Research Agency, to talk about current research into the effects of Downy mildew on Busy lizzies.
The lifecycle of the Busy lizzie with Downy mildew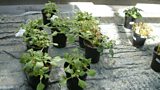 This image illustrates the different stages of how Downy mildew damages and eventually kills Busy lizzies, from the healthy plant on the left to the dead one on the right.
Seven things Prince Charles says you should do in the garden