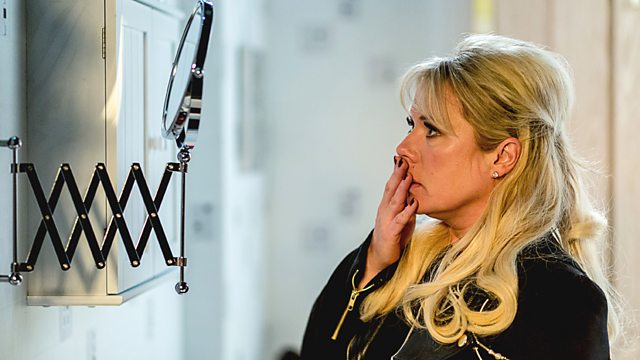 02/05/2013
Lola buys Billy some offensively strong cologne for his birthday. He's keen to celebrate, but after everyone seems to have forgotten, he's depressed. Lola soothes he's better than everyone. Meanwhile in the Vic, preparations are made for a surprise party. Lola drags Billy to the Vic and he walks in, mid-rant, to find everyone gathered for his birthday. Billy's sheepish, but affronted that Lola got his age wrong.
Sharon receives painkillers from the bouncer. Phil wants lunch in the Vic so people get used to them being together. Sharon takes two pills and after a run-in with Shirley, takes two more. After drinking at Billy's party, unsteady Sharon takes Lexi home and stumbles upstairs. Lola calls round, confused to find Lexi alone. Lola ventures upstairs and finds Sharon unconscious on the bathroom floor.
Michael's slept in the gym office and maintains a steely façade about Scarlett. Flustered Janine lumps Billy with Scarlett. Ray sympathises about Scarlett; Michael puts a stop to Ray's boxing scheme Kat's astounded by Janine's gall at bringing Scarlett to Billy's party. Alice and Kat beseech Michael not give up on Scarlett. Janine toasts to Billy and buys everyone's drinks.
Billy offers to help Dexter win his competition with Jay by sending work from Butcher's Joints staff. Jay thinks Billy's trying to keep Dexter sweet so he can move in on Ava. Dexter's unimpressed but agrees to go to Billy's party and be nice if Ava will give Cora a chance.
Tyler's moved into the Butchers' after Janine threw him out. After unsuccessfully pleading with Mr Lister about their stall, Bianca mouths off. Kat thinks she's made things worse.
Carol and Masood are excited about their date. Fatboy advises it's time Tamwar got over Afia. Poppy plots to set Tamwar up and tells Fatboy Alice has a secret crush.
Last on
Credits
| Role | Contributor |
| --- | --- |
| Sharon Rickman | Letitia Dean |
| Lola Pearce | Danielle Harold |
| Billy Mitchell | Perry Fenwick |
| Phil Mitchell | Steve McFadden |
| Michael Moon | Steve John Shepherd |
| Janine Butcher | Charlie Brooks |
| Kat Moon | Jessie Wallace |
| Bianca Butcher | Patsy Palmer |
| Carol Jackson | Lindsey Coulson |
| Jay Mitchell | Jamie Borthwick |
| Dexter Hartman | Khali Best |
| Ava Hartman | Clare Perkins |
| Poppy Meadow | Rachel Bright |
| Arthur 'Fatboy' Chubb | Ricky Norwood |
| Tamwar Masood | Himesh Patel |
| Alice Branning | Jasmyn Banks |
| Alfie Moon | Shane Richie |
| Roxy Mitchell | Rita Simons |
| Cora Cross | Ann Mitchell |
| Masood Ahmed | Nitin Ganatra |
| Shirley Carter | Linda Henry |
| Ray Dixon | Chucky Venn |
| Tyler Moon | Tony Discipline |
| Mr Lister | Nick Wilton |
| Executive Producer | Lorraine Newman |
| Director | Nigel Douglas |
| Writer | Paul Matthew Thompson |