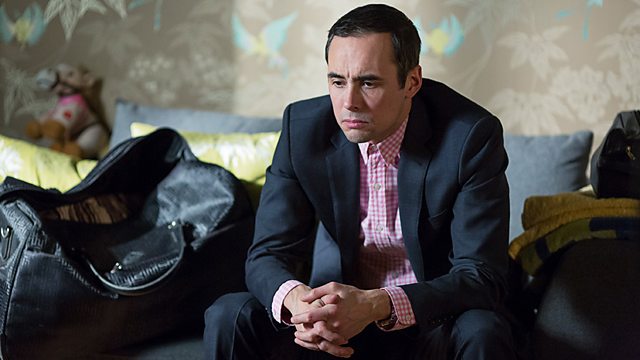 30/04/2013
With Janine's deadline looming, Michael packs a bag for Spain, convinced he's no other option. Alice offers to go too. Michael's flattered, but insists she'll get over him. As Billy knocks on the door, Michael pleads Alice stall them. Michael's slipping out the back with Scarlett when Janine bars his exit. Michael won't hand Scarlett over – Janine had her chance and she blew it! Janine reveals she's having counselling. Michael insists childcare will drive her insane. Janine pleads that it's her turn; they both know what it's like growing up without a mother. Struck, Michael gives Scarlett up, confirming his first access visit. Warning if Janine screws up he'll kill her, Michael walks away, devastated.
Lauren's heartbroken and hurt by Tanya's accusation. In R&R, Tanya confronts Sharon about taking her painkillers. Sharon bursts into tears, crying they're for migraines, she can't afford to lose it now for Dennis' sake. Tanya insists she see a doctor; Sharon lies Phil said the same. Tanya gone, Sharon takes the last of the painkillers and gives a bouncer cash from the till to buy her illegally sourced painkillers.
Jay and Dexter bicker about their workloads until Abi suggests they keep a record of who does the most work – loser makes the tea.
In the cafe, AJ teases that Masood's lovesick. Tamwar still misses Zainab. Bianca thinks Carol should fix a date. Masood nurses a tea, trying to summon his courage. Eventually, Carol asks him out. Masood eagerly accepts.
Kat sticks a 'prat' sign on Mr Lister's back; Bianca salts his tea and gives him panda eyes with trick sunglasses. While they hide, Carol warns Mr Lister to stop harassing Bianca. After a lecture from Mr Lister, Bianca bites her tongue but Carol's unable to. Kat and Bianca receive a three week ban from the market.
Last on
Credits
| Role | Contributor |
| --- | --- |
| Michael Moon | Steve John Shepherd |
| Janine Butcher | Charlie Brooks |
| Alice Branning | Jasmyn Banks |
| Billy Mitchell | Perry Fenwick |
| Kat Moon | Jessie Wallace |
| Bianca Butcher | Patsy Palmer |
| Masood Ahmed | Nitin Ganatra |
| Carol Jackson | Lindsey Coulson |
| AJ Ahmed | Phaldut Sharma |
| Tamwar Masood | Himesh Patel |
| Sharon Rickman | Letitia Dean |
| Tanya Cross | Jo Joyner |
| Lauren Branning | Jacqueline Jossa |
| Dexter Hartman | Khali Best |
| Jay Mitchell | Jamie Borthwick |
| Phil Mitchell | Steve McFadden |
| Tyler Moon | Tony Discipline |
| Abi Branning | Lorna Fitzgerald |
| Mr Lister | Nick Wilton |
| Executive Producer | Lorraine Newman |
| Director | Nigel Douglas |
| Writer | Carey Andrews |