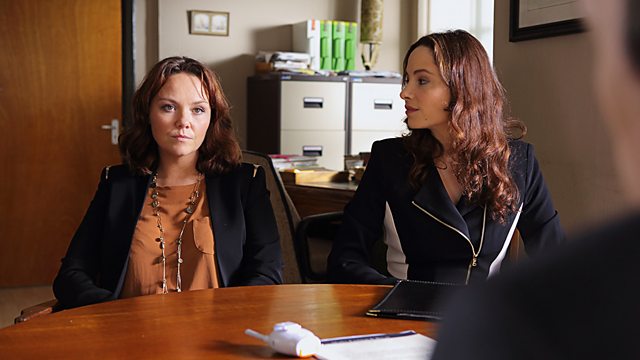 29/04/2013
Michael dumps Scarlett on Janine, unannounced. Janine struggles and experiments with controlled crying. Michael listens via a concealed baby monitor in Scarlett's pushchair, pleased to hear Janine doubt herself. At the custody meeting, Michael wants to tear up Janine's residency order and proposes things remain as they are. Janine refuses, producing the hidden baby monitor. Michael insists that Janine's not fit to take care of Scarlett. Janine's solicitor, Simone Turnbell, defends that Janine left due to post natal depression caused by Michael's neglect. Janine states she'll do whatever it takes to get Scarlett, including going to court; she later announces she won't ask for a penny if Michael relinquishes Scarlett and her house in 24 hours.
Tanya discovers her cancer painkillers are missing a strip. Suspecting Lauren, she bins the box. Sharon takes the last of the stolen painkillers and arrives at Tanya's on the pretence of baking for the school cake sale. She's dismayed to find Tanya's painkillers aren't in the medicine box. While Tanya's distracted accusing Lauren, Sharon scours the kitchen and retrieves the painkillers from the bin. Later, Tanya notes the lid of the medicine box left out; checking the bin, Tanya realises the culprit is Sharon.
Lauren can't remember the night before. Lucy fills her in that she was drunk and humiliated Joey. Tanya reveals Lauren came home crying that Joey dumped her. Lucy comforts Joey, claiming she feels responsible for buying Lauren a vodka. Lauren apologises to Joey, who thinks she should say sorry to Lucy. Lauren insists Lucy spiked her drink. She tearfully promises to change but Joey repeats that it's over.
Ian pursues Janine about his loan. Later, there's a 'Let' sign outside the Emporium – has Ian secured it? Lucy wonders why Ian's distracted.
Bianca's melancholy with Liam gone. Kat and Carol try to cheer her up.
Last on
Credits
| Role | Contributor |
| --- | --- |
| Michael Moon | Steve John Shepherd |
| Janine Butcher | Charlie Brooks |
| Billy Mitchell | Perry Fenwick |
| Alice Branning | Jasmyn Banks |
| Sharon Rickman | Letitia Dean |
| Tanya Cross | Jo Joyner |
| Lauren Branning | Jacqueline Jossa |
| Joey Branning | David Witts |
| Ian Beale | Adam Woodyatt |
| Bianca Butcher | Patsy Palmer |
| Kat Moon | Jessie Wallace |
| Cora Cross | Ann Mitchell |
| Carol Jackson | Lindsey Coulson |
| Lucy Beale | Hetti Bywater |
| Norman Pike | Tim Bentinck |
| Simone Turnbell | Kate Loustau |
| Executive Producer | Lorraine Newman |
| Director | Nigel Douglas |
| Writer | Paul Quiney |