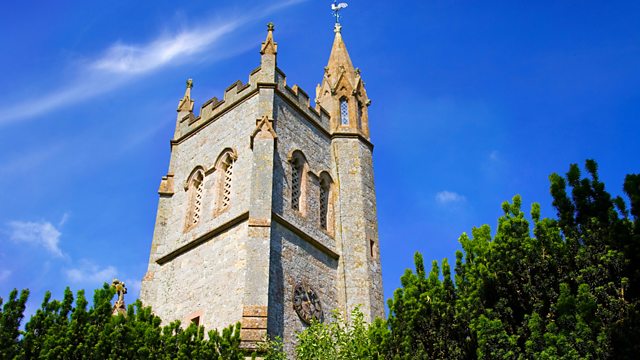 05/05/2013
Fr Aidan Rossiter CJ is the celebrant and preacher at this Mass for the 6th Sunday of Easter with the Chamber Choir of St George's College Weybridge - BBC Songs of Praise Senior School Choir of the Year 2012. Live from St George's College. Director of Music: Tansy Castledine. Organist: Daniel Phillips. Producer: Philip Billson.
Last on
St George's College, Weybridge
Due to Copyright reasons the script for the service is not available.
Please note:

This script cannot exactly reflect the transmission, as it was prepared before the service was broadcast. It may include editorial notes prepared by the producer, and minor spelling and other errors that were corrected before the radio broadcast.

It may contain gaps to be filled in at the time so that prayers may reflect the needs of the world, and changes may also be made at the last minute for timing reasons, or to reflect current events.
Homily – Father Aidan Rossiter CJ

I suspect like me that many of you may find somethings in your belief system  a bit difficult to deal with. Faith is usually portrayed as an all or nothing belief, however sometimes we may not yet have had the life experience to appreciate what these difficulties are really about. But in our first reading today we hear about a real and indeed painful obstacle to discipleship; adult circumcision. The letter that is sent by the Apostles in the reading from Acts is almost coy when it says, "We hear that some have disturbed you with their demands and have unsettled you minds". I think I certainly would be unsettled about it. Circumcision for a grown male is a real hurdle. There's nothing peaceful about the idea of it. But what we have here an early example of the Apostles removing such unnecessary hurdles that impede progress in responding to the call to Christian faith that leads to peace. Indeed it is a lesson we still need to learn. The resurrection of Christ is for us all the great act of liberation.  All faith communities should beware of imposing regulations that cut people off, unsettle, and cause anxiety.
In today's Gospel, Jesus continues to prepare his disciples for his eventual ascension to glory which the Church celebrates very soon. The disciples don't want him to go and have been fearful after the events of Good Friday and Easter morning, Jesus tries to allay their fears by talking to them at the Last Supper before these events occur. He assures them that they will not be alone. He speaks of the Word of God and God's Spirit making a home within them and bringing them peace. This text is taken up in the words of the Mass as we share that peace with each other prior to approaching the altar to receive Holy Communion; the fullest expression of the indwelling of God for all believers. In Eucharist we feast on the Word and Spirit of God in the Body and Blood of Christ, broken, shared and poured out for us, forgiving us and bringing us his peace.
A feature of most of the post-resurrection experiences of Christ is His greeting, "Peace be with you" or "do not be afraid".  Jesus reassures the disciples, and us, that we need not be afraid because the same Spirit that realised the Word of God made flesh in the womb of Mary now is gifted to us; to teach and guide us along the paths of life that lead to peace.
But what is this peace that the world cannot give? This peace is a sense of "Shalom", a profound well-being rooted in just, true and righteous relationships. Our opening hymn sang about the Spirit bringing justice to the poor and down trodden if we walk His way. We cannot be at peace if we see such injustice. My religious congregation, the Josephites, run many schools in some of the poorest and unsettled places in Africa, providing much needed education, opportunities… and hope. Some of the teachers in our Western schools volunteer a portion of their salary to their African colleagues who, on the meagre national wages cannot at times put food on their own children's table. This response to injustice brings a real sense of well-being to both sets of teachers. Indeed Pope Paul 6th put it most succinctly when he spoke to the United Nations the 1970's, "if you want peace, work for justice". Thus at the heart of God's peace is right relationships.
But this peace is bound up with the word, they both make their home in us. Earlier in the same discourse to his disciples Jesus gives us a new commandment to love each other as he has loved us. That is the heart of it all. Love is the Word. To love is to do the will of our heavenly Father in the here and now.  Jesus also speaks of the unity he has with his Father. His words are at one with His Father's will. It is the Father's will to love that is made flesh in Jesus.  Have we not always prayed that in the Lord's prayer, "thy will be done on earth as it is in heaven"? The resulting peace has a heavenly quality. The word of God is Love and the peace of God is that which is expressed between the lover and the beloved. 
Quite often, and given the horrors we see happening in Syria and elsewhere, we tend to think of peace as the absence of war, violence or economic hardship or perhaps a sort of passive quiescence but in the gospel Jesus is offering more. He is offering a share in the peace that is at the heart of the relationship of the Holy Trinity of love; Father, Son and Holy Spirit. Peace and love are thus essentially facets of the same thing; the very life of God.
This well-being is not some fuzzy feeling. It can be a deep sense of contentment but it can also be a sense of unbounded joy which we hear about in the Spiritual  Every time I feel the Spirit,  momentarily. Here the gift of the Spirit is by no means quiet! It is vibrant and life affirming, enabling us to live our lives according to God's will and word. It gets us through life's trials and we feel it as St Paul would put it "praying within us"… and it has to be expressed in joyful witness. The Monteverdi Cantate Domino during communion sings of the new song full of that inner joy that comes from the spiritual peace of knowing that we are free, liberated by the resurrection of the Lamb of God we will have just received in the Eucharist. Benjamin Britten's Jubilate Deo at the end of Mass returns us to the beginning. We are to be joyful as we go out singing the Lord's praise, proclaiming the good news as we sang in the Alleluia, and serving him by thanking him and serving others because he has shown us the gift of his mercy which endures always along with his truth.
If we are truly open to Christ's words then God's very life will dwell within us and his Spirit will bring us a fullness of life that will in turn bring us that inner peace of knowing that we are loved totally, and that well-being is a blessing to share.