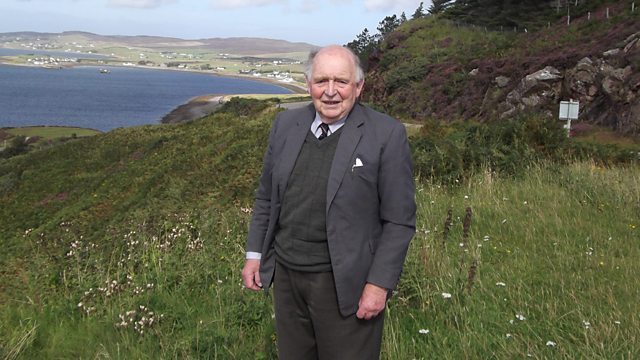 Episode 4
Os cionn an Allt Bheithe, tha Ailean Caimbeul agus Uilleam MacRobbie a' dèanamh dealbh air cho trang agus a bha Loch Iù le soithichean aig àm an Dàrna Cogaidh nuair a bha soithichean na convoys Ruiseanach agus ceann a tuath a' Chuain Siar a' cruinneachadh ann.
Bha Ailean agus Uilleam air a bhith roimhe aig seirbhis chuimhneachaidh a' comharrachadh 70 bliadhna bho thòisich na convoys agus cluinnidh sibh cuid a chaidh a chlàradh a sin sa phrògram. Tha Uilleam ag innse mun chall beatha a bh' ann nuair a chaidh 'tug' à Loch Iù a chuir fodha air Chluaidh agus cuideachd mar a chaidh an t-soitheach Ameireaganach, William H Welch a sgrios sa Ghearan 1944. Tha am prògram a' crìochnachadh le còmhradh a bh' aig Cailean MacIlleathainn agus Kay NicMhathainn air Radio nan Gaidheal ann a 1988.
Allan Campbell and Willie MacRobbie view Loch Ewe from above the village of Aultbea and Willie describes the bustle of activity in the Loch during World War 2 when it became a principal North Atlantic and Russian Convoy marshalling area.
Allan and Willie had also previously attended a memorial service marking the 70th anniversary of the start of the Russian Convoys, and this programme includes material recorded there. Willie describes the loss of life when an ocean-going tug from Loch Ewe was sunk in the Clyde by a mail steamer, and he also tells of the tragedy of the wrecking of the American liberty ship William H Welch in February 1944.
The programme ends with an excerpt from a 1988 Radio nan Gaidheal Cailean MacLean interview with Kay Matheson who is a native of the area.
Last on