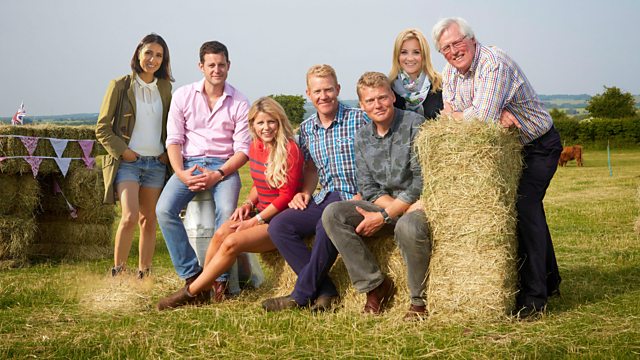 Luddenden
The Countryfile team heads to Calderdale in West Yorkshire. It is the most southerly of the Yorkshire dales and perhaps not as well known as its northern cousins, but what it lacks in fame it makes up for in beauty.
Ellie Harrison follows in the footsteps of Whitely Turner, whose book A Springtime Saunter Round and About Bronte Land was first published 100 years ago. It takes in some of the most stunning landscapes of the area including the village of Haworth where the Bronte family lived. Ellie explores some of the landscapes which inspired the writer Ted Hughes. Ted was born in 1930 in Calderdale and it inspired much of his writing.
Matt Baker looks at the food revolution which is happening in the area. Through a scheme called Incredible Edible, Todmorden hopes to be the first self-sustaining town in the country. Matt sees how they plan to achieve this by visiting one school where fish poo is the key.
The area is home to the largest concentration of reservoirs in the country. They were built to support the mill industries during the Industrial Revolution, but what are they used for now the mills have closed? Helen Skelton finds out with a bit of wind-surfing and some springtime restoration work.
Also on the programme, Britain's bees are disappearing fast and in the last few years a pesticide, vital to many farmers, has been getting the blame. Now Europe wants it banned. Tom Heap investigates if this is a sensible scientific move.
On his farm, Adam Henson is really feeling the effects of the bad weather with crops impossible to sow into the hard ground. Adam also travels to North Wales though to see the devastating and heartbreaking effect the harsh weather has had on lambing there.
Last on
Ellie's literary landscape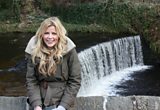 Ellie Harrison is on a literary quest this week. In the 100th year of its publication, she retraces the steps of Whiteley Turner's 'A Springtime Saunter.' Ellie revisits some of the most memorable places in Turner's book including the little known ruins of Castle Carr and the Bronte Waterfalls, where she makes a rather unusual discovery.  Ellie is also on the trail of the late poet laureate Ted Hughes. Ted spent the first seven years of his life in the valley and it is a landscape that shaped his poetry. Armed with letters from Ted's brother Gerald - and with the help of a childhood friend - Ellie takes a journey around the magnificent Calder Valley.
Adam's bleak spring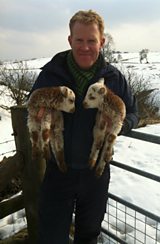 This week, Adam Henson looks at the devastating impact the long cold wet winter – and a bleak start to spring - has had on farming. Adam walks his fields to assess the damage to his crop of oil seed rape. He also invites an agricultural consultant along to get a bigger picture of how the weather has affected other farmers. Adam then travels to Wales, to witness the heart-breaking plight of a hill farmer who has lost nearly two hundred sheep and lambs to the severe conditions. He is still waiting for the huge snowdrifts to melt before he knows the true numbers of lost sheep.   
Helen's water world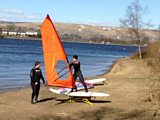 The South Pennines is a vast water-filled landscape. With rolling hills and steep valleys it is thought to have the highest density of reservoirs in the country. Helen Skelton finds out why there are so many historic reservoirs and sees how some of them are now serving a more recreational purpose. Helen also meets a group of local people who bought a dam, tries out windsurfing and has a cup of tea on a sandy beach that's believed to be the highest in England.
Tom and the disappearing bees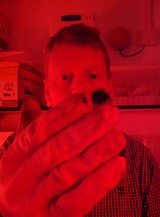 Britain's bees are in decline. According to one estimate their population has dropped by half since the 1980s.  More recently, commonly used agricultural pesticides, called neonicotinoids, have been linked to this decline – and now the European Commission wants them banned. But, as Tom Heap, discovers scientific research has yet to prove a definite link between these pesticides and the large-scale disappearance of bees. So, is this just a knee-jerk reaction or a sensible precaution?
IMAGE: Tom and a bumble bee in the research laboratory

Matt's food trail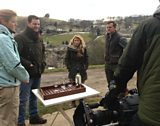 Matt Baker is in Calderdale to learn more about a town striving to make itself sustainable. Incredible Edible is a social enterprise based in Todmorden. It plants food in public spaces and even uses recycled fish poo to feed its hydroponic crops. Just down the road in the Luddenden Valley, Matt meets up with a local farmer who is becoming sustainable in a very different way. He is making his own fruit and vegetable wines! But will Matt and Ellie enjoy an alcoholic beverage made using parsnips?
Credits
| Role | Contributor |
| --- | --- |
| Presenter | Matt Baker |
| Presenter | Matt Baker |
| Presenter | Ellie Harrison |
| Presenter | Ellie Harrison |
| Presenter | Tom Heap |
| Presenter | Tom Heap |
| Presenter | Adam Henson |
| Presenter | Adam Henson |
| Presenter | Helen Skelton |
| Presenter | Helen Skelton |
| Series Producer | Teresa Bogan |
| Series Producer | Teresa Bogan |