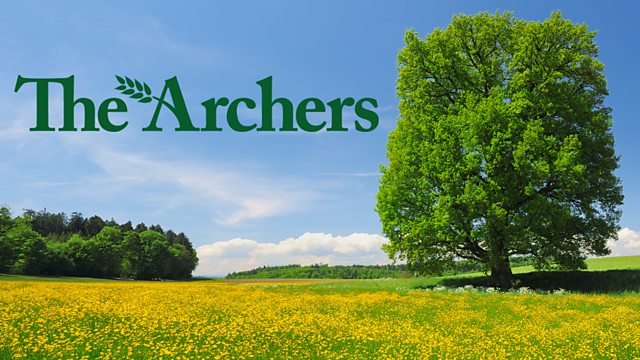 03/05/2013
Lynda's edgy when Eddie mentions the pasture that's been fenced off. He says it's a waste because the llamas could graze there. She's even more anxious when Alistair arrives with Wolfgang's post-mortem results. But there's huge relief when the results show there was no bovine TB.
Clarrie's glad that the PCC are going to raise money to repair the church organ and that Ed and Jazzer have completed their shearing course ready to start work. When Eddie suggests staying with Rosie in Great Yarmouth for her birthday, Clarrie says she can't take time off with the way things are at Bridge Farm.
Later when Eddie asks Nic for birthday ideas, she says she's come up with a plan.
Tom's new ready meals packaging arrives but Pat finds it odd not seeing 'organic' printed on it. Pat's concerned when Clarrie mentions that Lynda's heard a rumour that they're selling Bridge Farm and retiring. She rings Lynda, who apologises. She heard from Robert, who heard from Bert, who got it from The Bull. Lynda's relieved to hear there's no truth in the rumour. She'll put everyone straight.
Alistair tests the Bridge Farm herd for TB, but they'll need to wait until Monday to see if there are any reactors - so fingers crossed until then.
Last on
Credits
| Role | Contributor |
| --- | --- |
| Writer | Simon Frith |
| Director | Rosemary Watts |
| Producer | Vanessa Whitburn |
| Alistair Lloyd | Michael Lumsden |
| David Archer | Timothy Bentinck |
| Ruth Archer | Felicity Finch |
| Pip Archer | Helen Monks |
| Josh Archer | Cian Cheesbrough |
| Tony Archer | Colin Skipp |
| Pat Archer | Patricia Gallimore |
| Helen Archer | Louiza Patikas |
| Tom Archer | Tom Graham |
| Jennifer Aldridge | Angela Piper |
| Matt Crawford | Kim Durham |
| Lilian Bellamy | Sunny Ormonde |
| Christine Barford | Lesley Saweard |
| Clarrie Grundy | Heather Bell |
| Nic Grundy | Becky Wright |
| Neil Carter | Brian Hewlett |
| Susan Carter | Charlotte Martin |
| Brenda Tucker | Amy Shindler |
| Lynda Snell | Carole Boyd |
| Kirsty Miller | Annabelle Dowler |
| Paul Morgan | Michael Fenton Stevens |
| Darrell Makepeace | Dan Hagley |
| Elona Makepeace | Eri Shuka |
| Charlie Morgan | Ben Caplan |