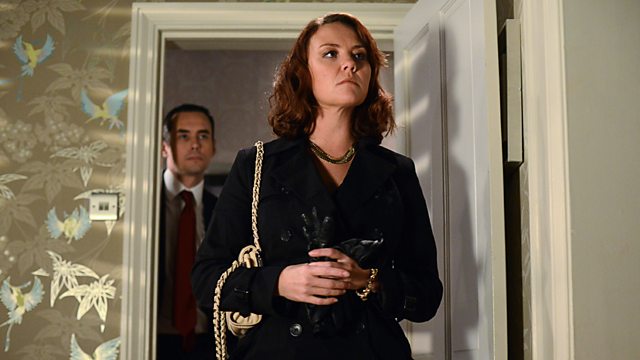 20/04/2013
When Phil makes a strange purchase at the Minute Mart, Kim thinks she's uncovered Sharon's real whereabouts.
Bianca is furious when she finds out Carol hasn't been completely honest about her relationship with probation officer, Steve.
Lola is ecstatic when Phil tells her she can look after Lexi overnight but she worries he has gone back on his word.
Jack and Sharon are forced to pull together when Dennis goes missing.
Lauren is weighed down by the guilt of another Branning lie and Joey struggles to cope when she turns to drink.
An excited Ian has an idea for a new business venture but what will Lucy make of his plans?
Michael finds his hands full when he realises that Jack has gone away. He seeks more help from Alice, not realising that she has developed feelings for him but that is the least of his worries when a face from the past returns - Janine is back.
Fully aware of Max's little secret, Tanya does her best to get him to admit the truth but unbeknownst to Max he isn't the only one keeping secrets.
Janine is back and full of confidence it is not long before she is trading blows with other Walford residents, including Kat. After sparring with Michael, Janine makes it known why she is really back and it's clear she means business.
Tanya puts Max on the spot about his situation but she soon realises the real reason why he kept the secret from her but will Max's honesty bring them closer together or push them further apart?
Kat tries to help a friend in need but ends up being burdened with a secret she knows will only cause more trouble...
Last on
Credits
| Role | Contributor |
| --- | --- |
| Michael Moon | Steve John Shepherd |
| Janine Butcher | Charlie Brooks |
| Kat Moon | Jessie Wallace |
| Kirsty Branning | Kierston Wareing |
| Max Branning | Jake Wood |
| Tanya Cross | Jo Joyner |
| Lauren Branning | Jacqueline Jossa |
| Jack Branning | Scott Maslen |
| Sharon Rickman | Letitia Dean |
| Dennis Rickman | Harry Hickles |
| Phil Mitchell | Steve McFadden |
| Lola Pearce | Danielle Harold |
| Billy Mitchell | Perry Fenwick |
| Bianca Butcher | Patsy Palmer |
| Liam Butcher | James Forde |
| Carol Jackson | Lindsey Coulson |
| Shirley Carter | Linda Henry |
| Denise Fox | Diane Parish |
| Ian Beale | Adam Woodyatt |
| Masood Ahmed | Nitin Ganatra |
| Dexter Hartman | Khali Best |
| Cora Cross | Ann Mitchell |
| Ava Hartman | Clare Perkins |
| Alfie Moon | Shane Richie |
| Roxy Mitchell | Rita Simons |
| Kim Fox | Tameka Empson |
| Bobby Beale | Rory Stroud |
| Joey Branning | David Witts |
| Tyler Moon | Tony Discipline |
| Whitney Dean | Shona McGarty |
| Morgan Butcher | Devon Higgs |
| Tiffany Butcher | Maisie Smith |
| Poppy Meadow | Rachel Bright |
| Alice Branning | Jasmyn Banks |
| Oscar Branning | Neo Hall |
| Oscar Branning | Charlie Hall |
| Steve Lowe | Michael Simkins |
| Jake | Billy Pamphilon |
| Rowly | Max Williams |
| Manager | Rahul Kohli |
| Executive Producer | Lorraine Newman |
| Director | Daniel Wilson |
| Writer | Julia Honour |
| Writer | Colin Wyatt |
| Writer | Lindsay Williams |
| Writer | Simon Ashdown |