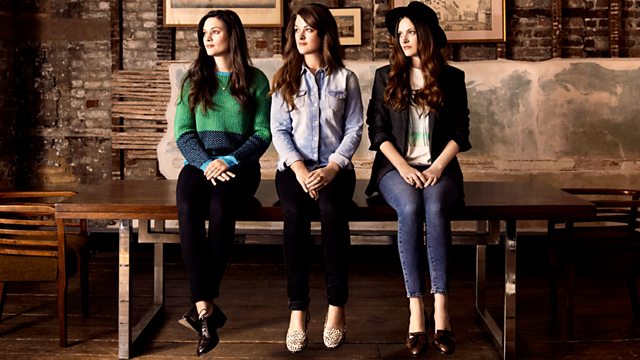 The Staves; Alison Curtis; Women in science fiction
Listen in pop-out player
Folk rock sisters The Staves sing live in studio. What's happened to the tough women in science fiction? Alison Curtis - Britain's first female boxing coach. Presented by Jenni Murray.
Last on
The Staves: Sisters who sing in perfect harmony
At the close of a sold out tour in the UK, The Staves  come into the Woman's Hour studio to perform live  their brand of acoustic folk. Emily, Jessica and Camilla Staveley-Taylor are a sister act who continue to gather fans and momentum since launching their debut album 'Dead & Born & Grown' last autumn.  They explain to Jenni how  they've only ever sung one way and that's in three part harmony.
Sci-Fi Women
If they're not being forced to fight the alien forces of evil clad in just a bikini, then women in science fiction films or TV series are frequently seen trailing after a chisel-jawed leading man so that, at some point in the action, they can become the damsel-in-distress. For years, female science fiction characters played second fiddle to the men in the story but in the late 70s along came a new type of science fiction heroine and the likes of Ellen Ripley in the Alien films, Sarah Connor in The Terminator series and Servalan from Blake's 7 suddenly stormed onto our screens and started to give the men a run for their money. But has the trend continued? Who are the Sarah Connor and Ellen Ripley characters of today? Writer and academic Dean Conrad argues that they no longer exist and that women in science fiction and TV have once again been reduced to compliant side-kick status. Dr Christine Cornea, from the University of East Anglia, believes that the role of women in science fiction has changed more subtly in the last few years. They join Jenni to discuss.
Alison Curtis: British boxing's first professional female trainer
Alison Curtis
disapproves of the word 'aggression' and refuses to use it in the workplace, nothing too surprising about that, apart from the fact that Alison has just been appointed British boxing's first professional female trainer. How does she inspire her fighters to go out and win in the ring? 
The new Italian female cabinet members
On Sunday, a new Italian government was sworn in and two months of political deadlock came to an end. Since the general election in February, Italy has been without a cabinet but, following an uneasy alliance between the left wing Democratic Party and Silvio Berlusconi's right wing People of Freedom party, 21 Ministers have now been appointed and 7 of them are women. Never before has the Italian cabinet boasted so many female members. So, why are there suddenly so many women suddenly in political power in Italy and what does the Italian public make of it?  To discuss the issue, Jenni is joined by Andrea Vogt, an Italian journalist and author, and by Roberta Guerrina, Head of the School of Politics at the University of Surrey.
Steam Gondola
For some, retirement means a rest … for others a new life. For former teacher, Valerie Beacock, it means becoming a steam boat captain in the Lake District. She's the first woman to take the helm of The Gondola – the famous steam yacht on Coniston Water which has been carrying tourists since the 1850s. Valerie has taken her Boat Master Certificate and Caz Graham joined her, as she put the Gondola through her paces in preparation for the tourist season ahead.
Credits
| Role | Contributor |
| --- | --- |
| Presenter | Jenni Murray |
| Producer | Helen Lee |
| Performer | The Staves |
| Interviewed Guest | Alison Curtis |