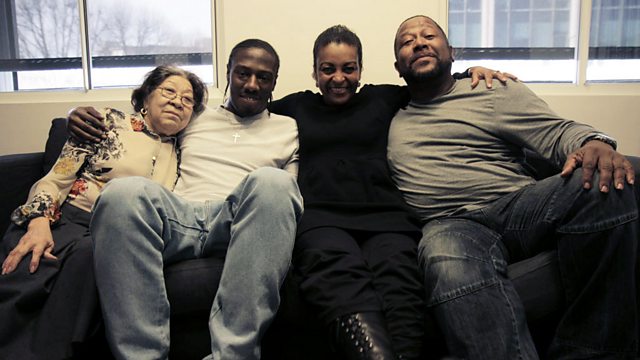 EPISODE ONE: ABOUT UPSET MUMS
In a mix of stand-up and re-enacted family life - Nathan Caton illustrates what can happen when you don't listen to your Mum.
Cast:
NATHAN ..... NATHAN CATON
MUM ..... ADJOA ANDOH
DAD ..... CURTIS WALKER
GRANDMA ..... MONA HAMMOND
REVEREND WILLIAMS ..... DON GILÉT
Written by Nathan Caton and James Kettle
Additional Material by Maff Brown and Ola
Producer: Katie Tyrrell
Can't Tell Nathan Caton Nothing - tells the story of young, up-and-coming comedian Nathan Caton, who after becoming the first in his family to graduate from University, opted not to use his architecture degree but instead to try his hand at being a full-time stand-up comedian, much to his family's annoyance who desperately want him to get a 'proper job.'
Each episode illustrates the criticism, interference and rollercoaster ride that Nathan endures from his disapproving family as he tries to pursue his chosen career in comedy.
The series is a mix of Nathan's stand-up intercut with scenes from his family life.
Janet a.k.a. Mum is probably the kindest and most lenient of the disappointed family members. At the end of the day she just wants the best for her son. However, she'd also love to brag and show her son off to her friends, but with Nathan only telling jokes for a living it's kind of hard to do. She loves Nathan, but she aint looking embarrassed for nobody!
Martin a.k.a. Dad works in the construction industry and was looking forward to his son getting a degree so the two of them could work together in the same field. But now Nathan has blown that dream out of the window. Martin is clumsy and hard-headed and leaves running the house to his wife (she wouldn't allow it to be any other way).
Shirley a.k.a. Grandma cannot believe Nathan turned down architecture for comedy. She can't believe she left the paradise in the West Indies and came to the freezing United Kingdom for a better life so that years later her grandson could 'tell jokes!' How can her grandson go on stage and use foul language and filthy material... it's not the good Christian way!
So with all this going on in the household what will Nathan do? Will he be able to persist and follow his dreams? Or will he give in to his family's interference?
Last on
More episodes
Previous
You are at the first episode
Credits
| Role | Contributor |
| --- | --- |
| Nathan | Nathan Caton |
| Mum | Adjoa Andoh |
| Dad | Curtis Walker |
| Grandma | Mona Hammond |
| Reverend Williams | Don Gilet |
| Writer | Nathan Caton |
| Writer | James Kettle |
| Producer | Katie Tyrrell |