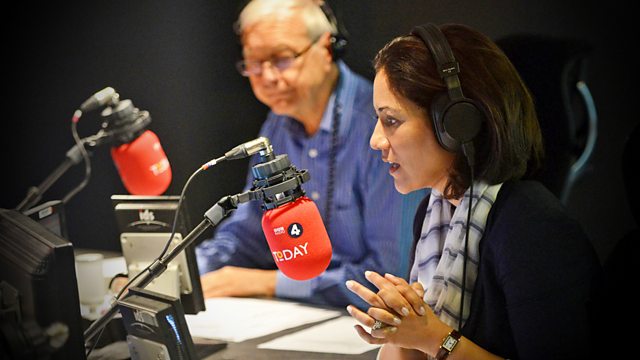 30/04/2013
Morning news and current affairs. Including Sports Desk, Weather, Yesterday in Parliament and Thought for the Day.
Last on
A rundown of stories from Tuesday 30 April including programme highlights and comment.
Life Inside 'Islamic State': Diaries
Tuesday 30 April
New figures show more than 10,000 offences of serious violence were dealt with last year without prosecutions or cautions. UKIP leader Nigel Farage responds to claims that his party are "clowns". And Jason Collins has become the first male athlete in a major American team sport to reveal he's gay.
0900

Our editors this morning were Lewis James and Adam Cumisky. Thanks for all your comments and feedback today, we're back tomorrow from 0600. Coming up next on BBC Radio 4 - Edward Stourton presents Syria: Can Aid Meet The Challenge?




0850

A new report from the left leaning think tank the IPPR, says voting should be made compulsory for first-time voters to encourage the habit of voting and increase turnout among the youth. Deborah Mattinson, director of Britain Thinks, and Conservative Future national deputy chairman, Sarah-Jane Sewel, discuss how to get young people to vote.




0851

Amnesty International believe that Sri Lanka should not be allowed to host the Commonwealth Heads of Government meeting in November, unless systematic human rights violations are stopped. We hear from Dr Chris Nonis, Sri Lanka's High Commissioner to the UK.





0848

We may not eat much horse meat in the UK but we export it. Now there are growing concerns that some of it is ending up on our plate despite not being fit for human consumption. One suggestion is there should be a new national database with a passport to match every horse in Britain. Nicola Stanbridge reports.




See more live updates