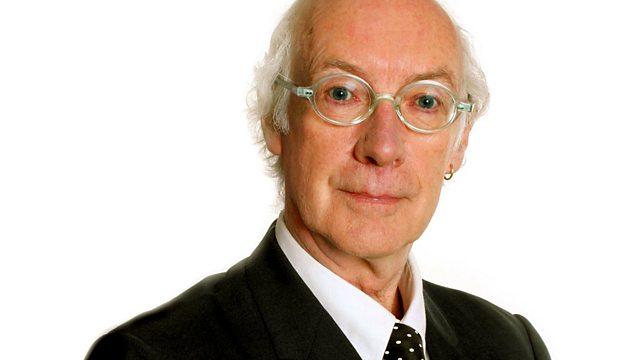 28/04/2013
Roger McGough presents the first in a new series of poems requested by listeners, with an edition that dares to walk on the wilder side, focusing on feelings other than those that relate to love. If the emotions felt in a single day were mapped across a life, what would be encountered? We hear poems that touch upon darker feelings, such as hatred, shame and remembrance.
Joined by the actors Patrick Romer, Kate Littlewood and Alun Raglan, Roger introduces poems by the likes of the footloose Verlaine, some sharply observed gems by Emily Dickinson, a dark poem about shame by the American poet Richard Wilbur, and a lament that conjures up powerful suburban frustrations, written by the Bristol-based poet and novelist, Helen Dunmore.
Producer: Mark Smalley.
Last on
This Week's Poems
Sanskrit Salutation to the Dawn                
By Kalidasa
Taken from http://www.holistic-online.com/Prayer/Spl_prayers/hol_prayer_sanskrit-salutation-to-dawn.htm
Sensation                                                           
By Arthur Rimbaud, translated by Kenneth Koch
From Sleeping on the Wing; an Anthology of Modern Poetry with Essays on Reading and Writing
Publisher: Random House
Pain Has an Element of Blank                     
By Emily Dickinson
From The Complete Poems of Emily Dickinson 
Publisher:  Faber
When You've Got                                           
By Helen Dunmore
From Being Alive
Publisher: Bloodaxe
Hatred 
By Wislawa Szymborska, translated by Stanislaw Baranczak & Clare Kavanagh
From Wislawa Szymborska - Poems New and Collected 1957 – 1997
Publisher: Faber
Shame                                                                 
By Richard Wilbur
From The Faber Book of Modern Verse
Publisher: Faber
The Uncommon Old Man                            
Anon
From "The Convivial Songster" 1782
Success is Counted Sweetest                    
By Emily Dickinson
From The Complete Poems of Emily Dickinson 
Publisher:  Faber
To Make a Prairie it Takes                            
By Emily Dickinson
From The Complete Poems of Emily Dickinson 
Publisher:  Faber
There is Another Sky                                     
By Emily Dickinson
From The Complete Poems of Emily Dickinson 
Publisher:  Faber
The Soul Unto Itself                                       
By Emily Dickinson
From The Complete Poems of Emily Dickinson 
Publisher:  Faber
Darling Fool Child                                            
By Kate Scott
From Stitches
Publisher Peterloo Poets
A Second Childhood                                      
By GK Chesterton
From The Works of GK Chesterton
Publisher: Wordsworth Poetry Library
Remembrance                                                 
By Emily Bronte
From The Brontes - Selected Poems 
Publisher : Everyman
A Woman's Last Word                                  
By Robert Browning
From The Poetical Works of Robert Browning vol II
Publisher:  John Murray
Credits
| Role | Contributor |
| --- | --- |
| Presenter | Roger McGough |
| Performer | Patrick Romer |
| Performer | Alun Raglan |