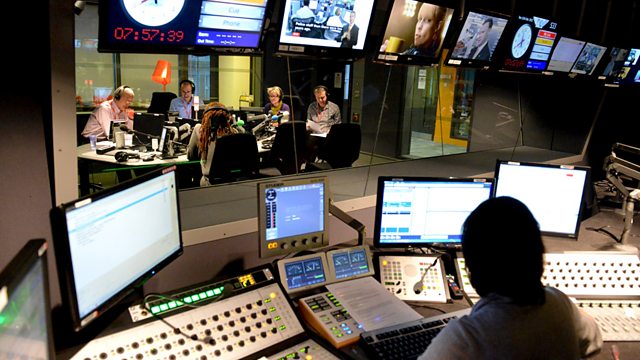 27/04/2013
Morning news and current affairs with James Naughtie and John Humphrys, including:
0810
12 days on from the Boston bomb, US police have announced that surviving suspect Dzhokhar Tsarnaev has been transferred from hospital to prison. This week, it emerged that the brothers had planned to detonate the rest of their explosives in Times Square. Ben Wright, our Washington correspondent, and Commissioner Edward Davis, Boston police commissioner, reflect on recent events.
0817
Britain's cuckoo population has seriously declined in recent decades and the British Trust for Ornithology is tracking a number of the birds to try to find out why. Dr Phil Atkinson, head of international research at the organisation, explains more about the process.
0820
The BBC's reporter Tom Esslemont explains that, every year, hundreds of children across the UK abuse their parents - sometimes tormenting them physically.
0830
The police watchdog is investigating whether a Taser electric stun gun ignited a flammable liquid which caused a man to be fatally burned. Carl Eve, a crime reporter at the Plymouth Herald who has been covering the case, and Simon Chesterman, of the Association of Chief Police Officers, reflect on the case and consider police use of Tasers.
Last on