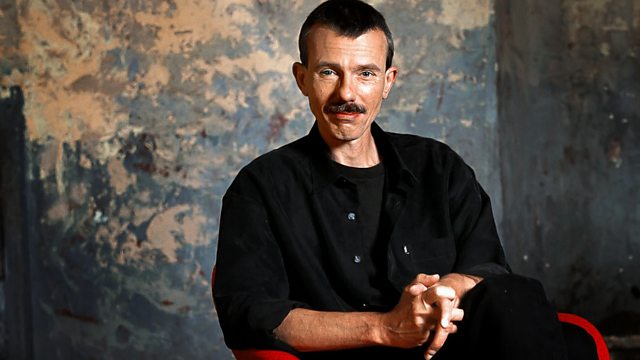 03/05/2013
Jonathan Swain introduces a concert of choral works by the Bulgarian composer Petar Dinev.
12:31am
Dinev, Petar (1889-1980)
The Angel Cried Out; It is Truly Meet in the 7th mode; A Mercy of Peace No.6; It is Truly Meet in the 5th mode; The Father & the Son; A Mercy of Peace No.7
Holy Trinity Choir, Plovdiv, Vessela Geleva (conductor)
12:51am
Dinev, Petar (1889-1980)
The Trisagion Hymn; The Lord's Prayer; A Mercy of Peace No.5; Troparion of the Nativity; My Whole Trust
Holy Trinity Choir, Plovdiv, Vessela Geleva (conductor)
01:06am
Dinev, Petar (1889-1980)
Praise the Name of the Lord; Two Folk Songs from South-Western Bulgaria
Bulgarian National Radio Mixed Chorus, Mihail Milkov (conductor)
01:14am
Dinev, Petar (1889-1980)
The Judicious Villain
Boris Hristov (bass), St Alexander Nevsky Cathedral Choir, Angel Konstantinov (conductor)
01:17am
Respighi, Ottorino (1879-1936)
Concerto in modo misolidio for piano and orchestra
Olli Mustonen (piano), Norwegian Radio Orchestra, Markus Lehtinen (conductor)
01:54am
Tchaikovsky, Pyotr Il'yich (1840-1893)
Six Pieces (Op.19)
Duncan Gifford (piano)
02:25am
Tchaikovsky, Pyotr Il'yich (1840-1893)
Waltz from Sleeping Beauty (Op.66)
Oslo Philharmonic Orchestra, Arvid Engegard (conductor)
02:31am
Mendelssohn, Felix (1809-1847)
Quartet for strings No. 2 (Op.13) in A minor
Biava Quartet
02:56am
Ippolitov-Ivanov, Mikhail Mikhaylovich (1859-1935)
Caucasian Sketches - orchestral suite (Op.10)
Edmonton Symphony Orchestra, Uri Mayer (conductor)
03:18am
Sweelinck, Jan Pieterszoon (1562-1621)
Mein junges Leben hat ein End
Barbara Borden (soprano), Netherlands Chamber Choir, Paul van Nevel (conductor)
03:25am
Chopin, Fryderyk (1810-1849)
Scherzo No.3 in C sharp (Op.39)
Ronald Brautigam (piano)
03:33am
Chedeville (Le Cadet), Nicolas (1705-1782)
Recorder Sonata in G minor Op.13 No.6
Ensemble 1700, Dorothee Oberlinger (director)
03:41am
Kacsoh, Pongrac (1873-1923)
Janos Vitez (The Hero John)
János Berkes (John, tenor), Magda Kalmár (Iluskas, soprano), Lajos Miller (Bagó, baritone), The Hungarian State Opera Orchestra, János Kerekes (conductor)
03:54am
Veracini, Francesco Maria (1690-1768)
Largo for violin and piano
Jela Spitkova (violin), Tatiana Franova (piano)
03:59am
Bach, Johann Sebastian (1685-1750)
Fugue for lute (BWV.1000) in G minor
Konrad Junghänel (lute)
04:05am
Benjamin, Arthur (1893-1960)
Overture to an Italian Comedy
Sydney Symphony Orchestra, Joseph Post (conductor)
04:12am
Mozart, Wolfgang Amadeus (1756-1791)
Quartet for oboe and strings (K.370) in F major
Peter Bree (oboe), Amsterdam String Trio
04:31am
Nicolai, Otto (1810-1849)
Overture to "The Merry Wives of Windsor"
RTV Slovenian Symphony Orchestra, Marko Munih (conductor)
04:40am
Telemann, Georg Philipp (1681-1767)
Overture from Tafelmusik
Crispian Steele-Perkins (trumpet), Frank de Bruine (oboe), The King's Consort, Robert King (director)
04:47am
Milhaud, Darius (1892-1974)
Scaramouche
James Anagnoson (piano), Leslie Kinton (piano)
04:58am
Striggio, Alessandro (c.1540-1592)
Ecce beatam lucem, for 40 voices
BBC Singers, Stephen Cleobury (conductor)
05:06am
Arnold, Malcolm (1921-2006)
Three Shanties for wind quintet (Op.4)
The Ariart Woodwind Quintet
05:14am
Beethoven, Ludwig van (1770 -1827)
Adagio in E flat (WoO.43 No.2) for mandolin and piano
Lajos Mayer (mandolin), Imre Rohmann (piano)
05:20am
Strauss, Richard (1864-1949)
Metamorphosen
Zagreb Philharmonic Orchestra, Lovro von Matacic (conductor)
05:51am
Haydn, (Franz) Joseph (1732-1809)
Trio for keyboard and strings (H.XV.19) in G minor
Katharine Gowers (violin), Adrian Brendel (cello), Paul Lewis (piano)
06:07am
Handel, Georg Frideric (1685-1759)
Solitudini amate (Beloved solitude)
Sophie Boulin (Roxana, soprano), La Petite Bande, Sigswald Kuijken (director)
06:14am
Baranovic, Kresimir (1894-1975)
Licitarsko srce (Gingerbread Heart) - Suite from the Ballet
Croatian Radio and Television Symphony Orchestra, Mladen Tarbuk (conductor).
Last on