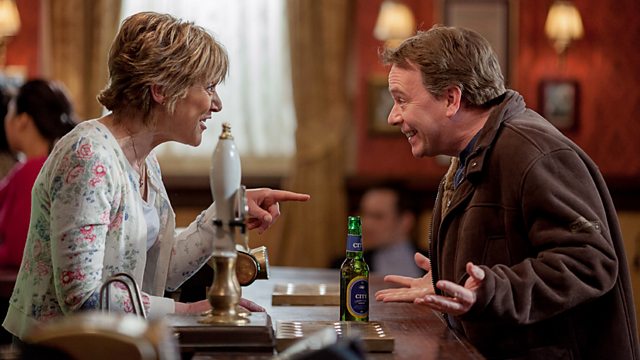 23/04/2013
Liam escapes Bianca's stall when he sees Tiff with an MP3 player he suspects is stolen. Tiff admits it was given her by Ali from the gang. Furious, Liam calls Bianca, revealing the text 'Liam R.I.P'. Bianca calls the police. They get Tiff to identify Ali and promise to surround the school with police. Liam suggests he goes to Ricky's but Bianca's vehement he stays. Morgan and Tiff don't want him to leave. Liam quietly agrees to stay.
In R & R, Sharon's angry Janine's messed up the orders. Janine wants the accounts done in 2 hours. Sharon's stressed. Phil picks up Dennis, pays for his school trip, and brings in Jean to help. Sharon's spiky about being thought incompetent but concedes she needs help. Phil says he's there to help Sharon with Dennis and wants them to move back in. They kiss but Sharon says they're friends. Phil asks how many more chances they'll get. He loves her. Sharon deliberates. At Phil's, there's a knock on the door. Sharon enters and answers him with a kiss. Phil leads Sharon upstairs...
Michael goes to his lawyer who warns against a complex, expensive and emotionally draining court case. Later, Michael tells Kat everything's fine but Phil rejects Michael's offer of a half share in the gym. Kat argues with Janine. She urges Michael not to give up – get a different lawyer.
With Lucy frosty, Jean encourages Ian about the restaurant. Janine taunts him. Ian's excited when he secures the lease but fumbles through explaining about the funds. He asks Jean not to tell Denise yet.
Carol's upset with Masood for interfering with Steve. Eventually, she admits they might have a future together.
Dex apologises to Cora about Ava's behaviour. Initially cold, she can't refuse a game of crib with Dexter…
Last on
Credits
| Role | Contributor |
| --- | --- |
| Sharon Rickman | Letitia Dean |
| Phil Mitchell | Steve McFadden |
| Janine Butcher | Charlie Brooks |
| Michael Moon | Steve John Shepherd |
| Kat Moon | Jessie Wallace |
| Liam Butcher | James Forde |
| Bianca Butcher | Patsy Palmer |
| Carol Jackson | Lindsey Coulson |
| Masood Ahmed | Nitin Ganatra |
| Ian Beale | Adam Woodyatt |
| Jean Slater | Gillian Wright |
| Lucy Beale | Hetti Bywater |
| Cora Cross | Ann Mitchell |
| Dexter Hartman | Khali Best |
| Tiffany Butcher | Maisie Smith |
| Morgan Butcher | Devon Higgs |
| Norman Pike | Timothy Bentinck |
| Executive Producer | Lorraine Newman |
| Director | Ian Barber |
Shocked Sharon confronts "K"