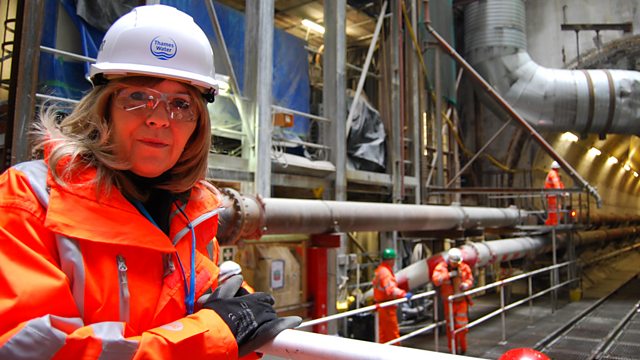 In this episode, the team look at Britain under pressure. With the population of the UK topping 63 million, what are scientists and engineers doing to reduce the strain on our ageing infrastructure?
Maggie heads 50 metres beneath the River Thames to see how the UK's biggest ever water engineering project aims to prevent raw sewage flowing into the Thames every time heavy rain overwhelms London's sewers; Liz explores the possibilities of urban underground farming, and also finds out how engineers protect us from smells like landfill; while Jem investigates a new idea that could help to tackle the problem of overcrowded graveyards.
Last on
Eat your pinks?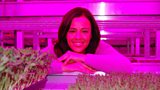 Most plants are green because they reflect rather than absorb green light - they don't need it to grow. Liz visits a research facility that's using just blue and red LED lights to grow plants indoors. Don't worry though - the plants still look green under normal lights.
Follow @BBCBang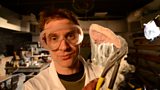 Who'd want to use liquid nitrogen to freeze and shatter a lamb chop? Jem Stansfield of course, investigating 'end of life technologies'. Keep across the latest news and behind-the-scenes views by following on Twitter.
Credits
| Role | Contributor |
| --- | --- |
| Presenter | Liz Bonnin |
| Presenter | Jem Stansfield |
| Presenter | Maggie Philbin |
| Series Producer | Paul King |
| Executive Producer | Tina Fletcher-Hill |
OU on the BBC: Explore science