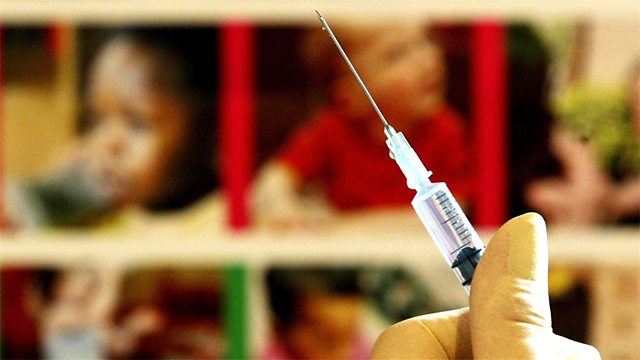 25/04/2013
Morning news and current affairs with Sarah Montague and Evan Davis, including:
0810
One million schoolchildren in England are to be targeted by a measles vaccination plan aimed at curbing the growing threat of outbreaks. The BBC's Nick Garnett heard from mothers Kim, Rebecca and Joanne outside a primary school in Tameside in Greater Manchester, and Dr Mary Ramsay, head of immunisation at Public Health England, outlines the threat that the epidemic is posing.
0817
The remains of a giant cat which roamed the Devon countryside a hundred years ago have been discovered in the basement of a Bristol museum. The BBC's science correspondent Rebecca Morelle reports from Bristol, and Isla Gladstone, curator of the Bristol Museum and Art Gallery, explains that it could be the earliest recorded example of an exotic big cat on the loose in the UK.
0821
A hospital radio station is to broadcast the sound of waves, rain, birdsong and snoring to help insomniacs and tinnitus sufferers to get to sleep. The Today programme's Sarah Montague heard from Mark Vernon creator of the innovative Treatment at the Forth Valley Royal Hospital.
0830
Bulgarian and Romanian officials have appeared before the Home Affairs Select Committee to allay fears over possible immigration from their countries, when access restrictions are lifted. Bulgarian ambassador Konstantin Dimitrov and Paul Nuttall, deputy leader of UKIP, debate the implications of the ruling.
Last on
A rundown of stories from Thursday 25 April including programme highlights and comment.