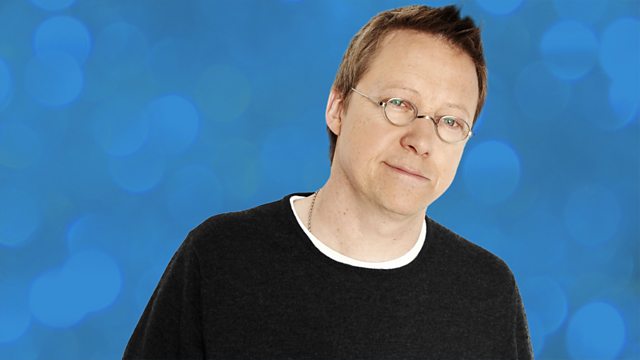 Foodie Thursday
It's Foodie Thursday and Nigel Barden will be cooking up another fabulous dish! Plus there's a brand new confession for the team to consider
Matt has the sports news, Rebecca is on the money and Sally updates the travel.
Last on
NIGEL'S RECIPE: Ginger-cured Sea Trout with Lettuce, and Lime Mayonnaise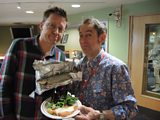 Ginger-cured Sea Trout with Lettuce, and Lime Mayonnaise<?xml:namespace prefix = o ns = "urn:schemas-microsoft-com:office:office" />
from Vogue Entertaining Guide
Serves 6
Prep time:  Less than 30 mins
Cooking time:  24hrs marinating
Ingredients
1 medium size sea trout or 2 fillets, with skin still attached (or substitute other types of trout as necessary)
4 tbsp chopped fresh ginger
4 tbsp salt
4 tbsp sugar
Mignonette, round or butter lettuce leaves, washed & dried
Lime mayonnaise (see recipe below)
zest of 1 lime
Method
1.    Fillet the sea trout, removing all the bones with tweezers but leaving the skin on (or ask your fishmonger to do it). 
2.    Place the fillets on a plastic or china tray, skin-side down.
3.    Combine the ginger, salt & sugar & spread evenly over the fish.  Cover with another tray and refrigerate for at least 24hrs.  The longer the fish is left in the refrigerator to marinate, the stronger the ginger flavour will be.
4.    To serve:  carefully wash the fillets & pat them dry.
5.    Slice the fillets on an angle as thinly as possible.
6.    Place 3 or 4 lettuce leaves on each plate, arrange 6 slices of sea trout beside the lettuce & add a spoonful of lime mayo & lime zest.
Lime Mayonnaise
Ingredients
3 egg yolks
½ tsp English, or grain, mustard
20 ml seasoned rice vinegar, or cider or white wine vinegar
¼ tsp salt
freshly ground black pepper
375ml olive oil
1 tbsp chopped chives
2 pieces glacé ginger, chopped finely
2 tsp ginger syrup (from the glacé ginger)
juice of 1 lime
Method
1.    Place the egg yolks, mustard, sugar, salt and pepper in a food processor & process with a plastic blade (or gently mix by hand).
2.    With the motor still running, slowly add the olive oil until the mixture thickens & the oil has amalgamated.
3.     Slowly add the vinegar at this stage, but 10ml at first, adding more if needed, after you taste it.
4.    To one cup of mayonnaise (240ml / 8fl oz), add the chives, chopped ginger, ginger syrup & lime juice & stir well. Keep left over mayo & use within 5 days. Great on steak sandwiches & baked spuds.
Nigel's Top Tips
•       If you want to add a bit more bulk to this dish, it's easily done with the addition of potato salad, or even better, simply boiled new potatoes with a dollop of the lime mayo & some extra chives over the top, or a bed of wild or red rice, or crusty rustic bread with butter.
•       It's a very tasty mayo, so do make a bit more to brighten up other dishes. Gt on baked spuds or steak sandwiches.