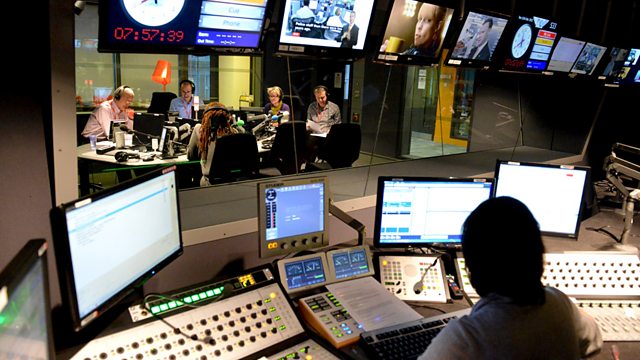 23/04/2013
Including Sports Desk, Yesterday in Parliament, Weather, Thought for the Day. Presented by John Humphrys and Sarah Montague.
Last on
Tuesday 23 April
George Osborne discusses the possibility that Scotland may not be allowed to keep the pound if it becomes an independent country. Evan Davis speaks to Lloyd Blankfein - the boss of Goldman Sachs - about why small businesses are still struggling to get bank loans. And: could porn be good for us?
0900

Clare Thorpe and Dave McMullan were our editors today. Thank you for all your comments and feedback, we're back tomorrow from 0600. Next on Radio 4: Stephanomics. Good morning.




0854

Nearly 40 years ago Ted Heath's government scrapped county names like Cumberland. Juliet Gardiner, British historian and a commentator, discusses news that cabinet minister Eric Pickles is looking to reintroduce them.




0849

Last week Carmen Reinhart and Ken Rogoff paper that showed that growth slows dramatically if a country's debt goes over 90% of its GDP was found to contain significant errors. Tom Herndon, a student at the University of Massachusetts Amherst, explains that he discovered the inaccuracies while he was doing his homework.




0845

One of the questions to come out of the Mid-Staffordshire NHS Trust inquiry into hospital abuse was: why are there so few prosecutions for neglect in the NHS? Dr Hannah Quirk, lecturer in criminal law at the University of Manchester, explains that the report that she co-authored found that the law needs to be changed in order to get more successful prosecutions.



See more live updates