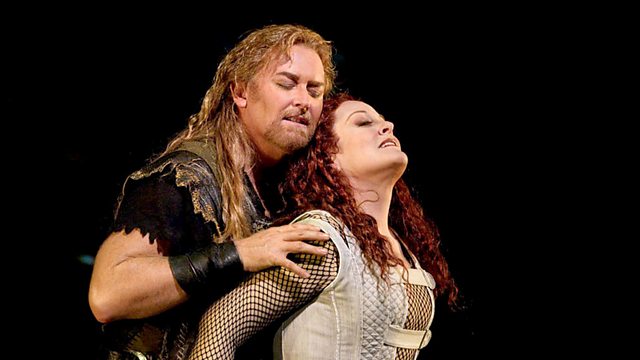 Wagner 200 - Siegfried
Wagner 200: The third opera of The Ring Cycle centres on Siegfried, the boy who knows no fear. Siegfried forges a new sword out of the remains of his father's shattered blade Nothung, which he then uses both to kill the dragon Fafner, and to break The Wanderer's spear. The opera ends with his discovery of Brunnhilde, and finally realising the meaning of fear, and of love. Jay Hunter Morris sings Siegfried, with Deborah Voigt as Brunnhilde and Mark Delavan The Wanderer. The broadcast includes a Wagner 200 Opera Guide on Siegfried.
Presented by Margaret Juntwait and Ira Siff.
Siegfried ..... Jay Hunter Morris (tenor),
Mime ..... Gerhard Siegel (tenor),
The Wanderer ..... Mark Delavan (bass-baritone),
Alberich ..... Eric Owens (baritone),
Fafner ..... Hans-Peter Konig (bass),
Woodbird ..... Lisette Oropesa (soprano),
Erda ..... Meredith Arwady (contralto),
Brunnhilde ..... Deborah Voigt (soprano),
Chorus and Orchestra of The Metropolitan Opera, New York
Fabio Luisi, conductor.
Last on