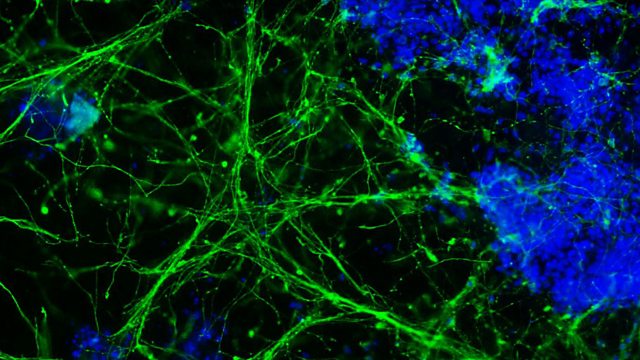 16/04/2013
Adam Walton meets Welsh scientists developing revolutionary new materials, from bulletproof ceramics, to containers that store nuclear waste for millennia without corroding.
Last on
Materials Science
This week Adam Walton delves into the material world. He talks to Welsh scientists using cutting-edge techniques to develop three very different types of materials; a hydrogel to grow stem cells, a ceramic body armour and materials that are as corrosion proof as you can get. 
Adam's journey begins at Manchester University's Materials Science Centre and the laboratories of the Stem Cell Glycobiology Group. This is where they're using new hydrogels to encourage the growth of stem cells. The Welsh connection in this lab is research Associate Emma Lowe who has worked with head of group, Dr Cathy Merry, to develop a microscopic, sugar-coated scaffolding that facilitates potentially life-saving stem cell therapies.  
Then it's time to talk about another material which is a life-saver, but in a rather different context. Dr Hywel Jones of Sheffield Hallam University's Materials and Engineeering Research Institute is developing a  low-cost, environmentally-friendly body armour, using ceramics. This new ceramic is more flexible than previous materials and, cruicially, more lightweight. 
Back at Manchester's University's School of Materials, another expatriate Welshman, Dr Tony Cross is exploring ways we can slow down corrosion, particularly in containers for nuclear materials. He has studied the many ways different materials react to  high-temperature, water and time. But understanding what happens, preventative measures can prolong the life of most materials.
Links
Manchester University Stem Cell Glycobiology Group
Manchester University Corrosion Research