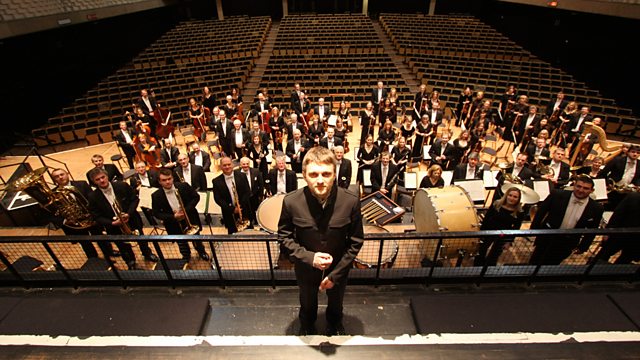 Bournemouth Symphony Orchestra - Korngold, Bruch, Wagner, Strauss
Live from the Lighthouse, Poole
Presented by Catherine Bott
Bruch's Violin Concerto, played by Vadim Gluzman with the Bournemouth Symphony Orchestra, conducted by Andrew Litton, plus favourites by Korngold, Wagner and Strauss.
Korngold: Overture to a Play
Bruch: Violin Concerto
8.10: Interval
8.30:
Wagner: Prelude, Act 3; Dance of the Apprentices; Procession of the Mastersingers (Die Meistersinger non Nurnberg)
R Strauss: Der Rosenkavalier Suite
Vadim Gluzman, violin
Bournemouth Symphony Orchestra
Andrew Litton, conductor
Korngold's Schauspiel Overture acts as a curtain-raiser to his own glittering career as one of Hollywood's leading composers - he was just fourteen when he wrote it
Bruch's first Violin Concerto is one of the most popular and performed of any in the repertoire, beloved by both violinists and audiences alike. Bruch's greatest gift was for writing haunting, deeply expressive melodies, and here he makes the gorgeous adagio the work's centrepiece. The orchestral writing, too, fully complements the solo part with its richness and drama.
Die Meistersinger represents Wagner's only mature attempt at comic opera. In the excerpts performed, we begin four hours into the opera, with the Prelude to Act III, and music that encompasses darkness and mystery using full-bodied brass and gently glowing strings that rise to a passion. Next is the lively Dance of the Apprentices and finally the grand Procession of the Mastersingers in their full glory.
Der Rosenkavalier was an instant success with its Mozartian farce and flurry of sweet and saucy waltzes. The music abounds in orchestral virtuosity and symphony orchestras had long enjoyed playing selections from the opera before a more established suite finally coalesced and was first performed in 1944, over 30 years after the opera's creation. It captures the most celebrated and voluptuous moments from the original score, from the opening bold and erotic horn call to its most famous waltzes, full of melodic splendour and harmonic richness.
Producer Anthony Sellors.
Last on