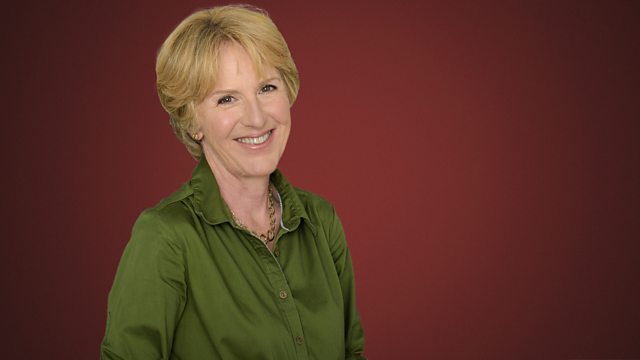 18/04/2013
Catriona Young presents Daniel Barenboim conducting Beethoven's 9th Symphony "Choral" from the 2012 Proms.
12:31 AM
Beethoven, Ludwig van (1770 -1827)
Symphony no. 9 in D minor (Op.125) "Choral"
Anna Samuil (soprano), Waltraud Meier (mezzo soprano), Peter Seiffert (tenor), Rene Pape (bass), National Youth Choir of Great Britain, West-Eastern Divan Orchestra, Daniel Barenboim (conductor)
1:42 AM
Haydn, Joseph (1732-1809)
Sonata for piano (H.16.34) in E minor
Niklas Sivelöv (piano)
1:55 AM
Ravel, Maurice (1875-1937)
Daphnis & Chloé - Suite No.2
Symphony Orchestra of Bulgarian National Radio, Vassil Kazandjiev (conductor)
2:12 AM
Couperin, François (1668-1733)
Messe l'usage pour les couvents (1690) fugue sur le Chromhorne (2eme Couplet); Duo sur les Tierces (3eme Couplet); Basse de Trompette (4eme Couplet); Chromhorne sur la Taille (5eme Couplet)
Marcel Verheggen (organ)
2:31 AM
Schumann, Robert (1810-1856)
Quartet for strings (Op.41 No.3) in A major
Vertavo String Quartet
3:00 AM
Engel, Jan (d.1788)
Symphony in G major
Polish Radio Symphony Orchestra, Andrzej Straszynski (conductor)
3:17 AM
Rachmaninov, Sergey (1873-1943)
Symphonic Dance No.1 (Op.45)
Bergen Philharmonic Orchestra, Andrew Litton (conductor)
3:29 AM
Ravel, Maurice (1875-1937)
Sonata for violin and piano in G major
Alina Ibragimova (violin), Cédric Tiberghien (piano)
3:47 AM
Hildegard of Bingen (1098-1179)
O clarissima Mater (respond)
Rondellus
3:56 AM
Champagne, Claude (1891-1965)
Danse Villageoise
Orchestre du Conservatoire de Musique du Québec, Jacques Lacombe (conductor)
4:01 AM
Bach, Carl Philipp Emanuel (1714-1788)
Trio Sonata in B minor (Wq.143)
Les Coucous Bénévoles
4:11 AM
Couperin, Francois (1668-1733)
Les Moissoneurs from Pieces de clavecin - ordre no.6
Jautrite Putnina (piano)
4:15 AM
Elgar, Edward (1857-1934)
To her beneath whose steadfast star - for chorus
BBC Singers, Stephen Layton (conductor)
4:20 AM
Foulds, John (1880-1939)
Isles of Greece (Op.48, No.2)
BBC Concert Orchestra, Ronald Corp (conductor)
4:25 AM
Schumann, Robert (1810-1856), trans. Liszt, Franz (1811-1886)
Widmung (Op.25 No.1)
Jorge Bolet (piano)
4:31 AM
Bartók, Béla (1881-1945)
Romanian folk dances (Sz.68) orch. from Sz.56
BBC National Orchestra of Wales, James Clark (conductor)
4:38 AM
Rautavaara, Einojuhani (b. 1928)
Och glädjen den dansar
Finnish Radio Chamber Choir, Eric-Olof Söderström (conductor)
4:41 AM
Françaix, Jean (1912-1997)
Serenade for small orchestra
Canadian Chamber Ensemble, Raffi Armenian (conductor)
4:51 AM
Scarlatti, Domenico (1685-1757)
Sonata in G major (K.104)
Virginia Black (harpsichord)
4:57 AM
Dvorák, Antonín (1841-1904)
Scherzo capriccioso (Op.66)
Slovak Radio Symphony Orchestra Bratislava, Oliver Dohnányi (conductor)
5:10 AM
Mozart, Wolfgang Amadeus (1756-1791)
Four Minuets for orchestra (K.601)
Symphony Nova Scotia, Georg Tintner (conductor)
5:22 AM
Schubert, Franz (1797-1828)
Fantasy for piano in C 'Wandererfantasie' (D.760)
Paul Lewis (piano)
5:44 AM
Telemann, Georg Philipp (1681-1767)
Sonata in F for 2 chalumeaux, violins and continuo (TWV 43: F 2)
Il Giardino Armonico
5:57 AM
Mendelssohn, Felix (1809-1847)
Octet for strings in E flat (Op.20)
Leonidas Kavakos, Per Kristian Skalstad, Frode Larsen & Tor Johan Böen (violins), Lars Anders Tomter & Catherine Bullock (violas), Öystein Sonstad & Ernst Simon Glaser (cellos).
Last on