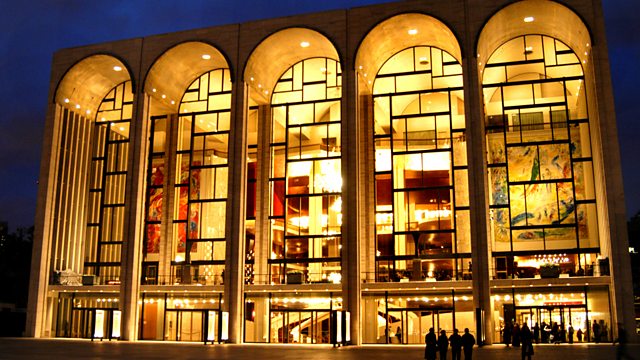 Wagner 200 - Die Walkure
Live from the Met
Presented by Margaret Juntwait
In the second instalment of Wagner's The Ring of the Nibelung, the focus of the story shifts from the realm of the gods to the human world, with the incestuous love between Siegmund and Sieglinde engendering some sublime and searing music. Wotan faces a dilemma over his desire to protect his son Siegmund, and the Valkyrie Brunnhilde defies Wotan's wishes, causing her own incarceration within a magic circle of fire.
Plus there's another chance to hear Radio 3's Opera Guide to Die Walkure.
Siegmund.....Simon O'Neill (tenor)
Sieglinde.....Martina Serafin (soprano)
Hunding.....Hans-Peter Konig (bass)
Wotan.....Mark Delavan (bass-baritone)
Fricka.....Stephanie Blythe (mezzo-soprano)
Brunnhilde......Deborah Voigt (soprano)
Gerhilde......Kelly Cae Hogan (soprano)
Ortlinde.....Wendy Bryn Harmer (soprano)
Waltraute.....Marjorie Elinor Dix (mezzo-soprano)
Schwertleite.....Mary Phillips (mezzo-soprano)
Helmwige.....Molly Fillmore (soprano)
Siegrune.....Eve Gigliotti (mezzo-soprano)
Grimgerde.....MaryAnn McCormick (mezzo-soprano)
Rossweisse.....Lindsay Ammann (mezzo-soprano)
Chorus and Orchestra of The Metropolitan Opera, New York
Fabio Luisi, conductor.
Last on